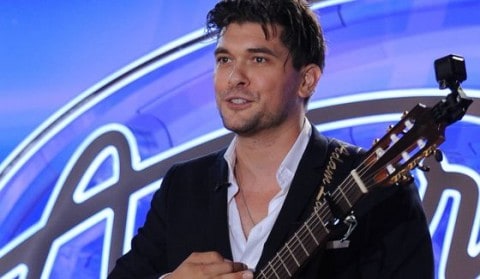 It's time for our final week of auditions as the farewell season of American Idol continues. The show recently made headlines as the judges all noted this is the "farewell" season, and not necessarily the "final" season. (Which I've been saying since my first review this year.) With so much hype surrounding the send-off, imagine what will happen when they bring it back from the grave? I imagine Paula and Randy have already cleared their calendars.
We get to board the Idol audition bus for one final (blah, blah blah) tour as it rolls to eleven cities, covering thousands of miles. We first arrive in Baltimore, Maryland, and meet Miranda "Poh" Scott. The 17 year old dancer is sister to the living proper pronoun herself, She, top 24 finalist from last season. Will Poh be better than She? Or will She be better than her?? (What?) She (as in Poh, not as in She) turns in a solid performance, prompting J.Lo to say her "movement matched the voice." Jenny also calls her "a little bit more confident" than She. It's a yes for all three judges, and Poh is on to Hollywood. (I just hope She stays home, because I can't keep typing that name, and I feel like She would make it all about her. Again.)
Next up we meet Amelia Eisenhauer, a 15 year old fiddle player from Nashville, who comes prepared with her own samurai sword. Because that's what one brings to an Idol audition, I guess? She surprises me with her take on an Annie Lennox song, and earns three yeses.
Meanwhile, back in Little Rock… enter the "big personality" of Joy Dove. The 21 year old from Natchitoches (bless you), Louisiana, serves up a sweet batch of "Jambalaya" and wows all three judges. Harry thinks she gives off a "great vibe" and it's a universal yes.
We next meet Mackenzie Bourg, a 23 year old musician from Lafayette, Louisiana. He's Harry's birthday buddy, and turns in one of the more clever auditions I've ever witnessed. He performs a medley of songs from all three judges, beginning with Keith's "Stupid Boy", then Harry's "Come By Me," Â Jennifer's "Love Don't Cost a Thing" and rounding it out with another Keith song, "Making Memories of Us." Harry declares him a "smart son of a gun" and J.Lo likes his "pleasant sound." It's a 3-way yes for him, and I think I have a new favorite on my hands.
We are next treated (or tricked?) into a montage of clips from seasons past of couples/relatives/partners auditioning together. I've never been a fan of the pair auditions, and this segment makes me want to write about something else.
If I have failed to mention (or more likely, you have failed to read) how much I love these three judges on American Idol, let me just reiterate that fact now: I love them together like I love my boy bands… together. (And can someone tweet me and rest my troubled mind already about the fate of One Direction?!?)
Jenna Renae, a 23 year old from Williamson, NY, raised on the music of Broadway and country, gives us a surprising take on Eric Paslay's "She Don't Love You" on the piano. Jenna has Harry referring to her as a "very soulful young woman" and Jennifer likes that she was "feeling the lyrics" as she performed. She gets an easy yes from each judge, and is bound for Hollywood.
Next Idol hopeful is Mario Bonds, 27, from DC. He shares his backstory of how he went blind at the age of 10, and has a superhero grandma to thank for where he is in life today. It's a story feel-good movies are made of, and I am expecting great things from him. His vocals don't match the power of his spirit, and it's a heartbreaking no from each judge. Harry thanks him for sharing his "powerful presence" and Keith compliments his "great light, great energy, great spirit."
FINALLY! The most anticipated contestant of the season for me gets his audition moment. If you read my reviews last season, you know that I predicted Adam Lasher in the final two. When he was cut in Hollywood, I had a mini riot in my living room and threw a remote control and maybe a bag of Cool Ranch Doritos. Adam returns for the farewell season, leaving behind the long hair and headband. It's a new look, but the same smooth voice and dreamy smile. (Do people still swoon? Because I think I might have swooned. Twice. Without even asking.) Adam, 28 years old from Danville, California, performs his take on "Knockin on Heaven's Door." The judges hear his knocks loud and clear, and my living room is safe for the audition round as he is rewarded with another golden ticket. I still think this one will go far, and my eyes are on him. (Still.)
Emily Brooke, a 16 year old from Wellington, FL, is the final contestant of the night. Like Adam, she auditioned last year and made it to Hollywood, but was cut after the House of Blues round. I can't tell you much about this year's audition, because I am currently riding my Adam Lasher high, but I can give you this; the judges are impressed with the work Emily has done over the past year to improve her craft, and she is given her golden ticket.
Thursday night we are treated with our very last round of auditions for American Idol, ever. (For now.)
[Photo via FOX]
American Idol Season 15 Episode 5 Review:
Summary
American Idol hopefuls audition for the judges in Atlanta, Little Rock, Philadelphia, and San Francisco.