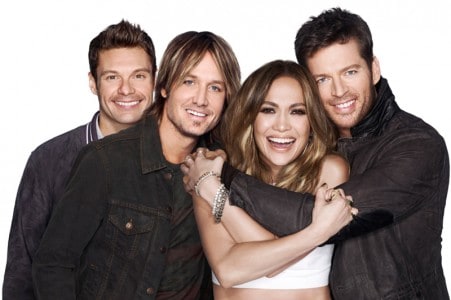 It's time to bid farewell to Hollywood Week on the farewell season of American Idol. As the official final day of this round unfolds, our final 75 Idol wannabes will get one last shot to prove their worthiness of remaining in the competition. Each contestant will choose one final song to perform, and have a night to get it just right. This number will be the first time the performers will be backed by a full band, and they will receive no immediate feedback from the judges.
Of the 75 that remain, we are only shown a handful of the singers in this seemingly short hour of Idol. First up is Stephany Negrete, 21, who decides to set some fire to the rain and tackles an Adele song. (Bold move, young lady.) Jennifer is impressed with more than just her vocals, because "she can walk in a pair of heels." (And if Bryce Dallas Howard can make it to the end of Jurassic World in heels, Stephany stands a chance making it to the end of Hollywood Week, I'd say.)
Thomas Stringfellow, 17, has become one of my low-key favorites of the season so far. He's looking every bit the part of the all-American boy in his bolero hat (if it's even called that, I'm too lazy to google it) and scarf. His take on "A Thousand Years" has Keith calling it a "terrible song choice."
Avalon Young, 21, is up and all I can say about her is she is plain and simple… a plain Jane. (Who is named Avalon.) Nothing really stands out to me about her or her performance, but she seems pleasant enough.
Olivia Rox, 16, rocks some serious pink streaks in her hair as she knocks out an original song on guitar. Keith thinks she has "decent enough song writing skills for 16" and Harry thinks that she is "on the right track." I would like to see Olivia in at least the top 24.
John Wayne Shulz, 28, has lost his trademark cowboy hat and appears to be an entirely different person without it. He makes a daring move and sings one of Keith's most recent singles, "John Cougar, John Deere, John 3:16." Dear John, that's a lot of Johns.
Mackenzie Bourg, 23, decides to take a page from Olivia's playbook, and opts for an original song, too. His performance of "Roses" has Keith thinking it could be "the lost Ed Sheeran track." And this will probably date me, but I can't help but think Mackenzie resembles Tom Little from the 1980's cartoon, The Littles. (You know, the one about tiny people with tails living in the walls? No?? YouTube it, please.) "You can't stop the Littles cuz the Littles don't stop."
Shelbie Z has turned into my nemesis of this season. She is a delightful young lady with personality, but I decided long ago we just can't gel because of that name. I'm shallow, I know. Shallow and shameful, and if Shelbie would just come forward and tell me her entire last name, I think we could be friends. Until that day, though, I'm going to have to ask her and her disappearing Daisy Dukes to hit the road, Jack.
James VIII (and that reads as James the 8th, for those that don't speak Roman, like myself), 24, gives a performance the judges seem to enjoy, but I think he sounds something like me when I belt it out pretending to be a great singer. (Which I am not, of course.) I also wonder if he would benefit from practicing singing into a mirror? Facial expressions can kill a performance I always say. (Actually that's the first time I've said that, but I'm gonna run with it.)
After some "song selection drama" (each song offered can be chosen by no more than three contestants), Tristan McIntosh, 15, gets her song choice. Another contestant gives up "What Hurts the Most" so Tristan can perform the song that has such special meaning for her and her military mama. It's in that moment I remember all the times Simon Cowell would tell the Idol hopefuls they aren't there to make friends, but to win a career. I always cringed when he spoke like that, because I think in most any situation, decent and kind people can and do make friends. So eat it Simon. The joke's on you. American Idol makes friends, ya jerk. (And in an effort to be decent and kind, please excuse me, Simon, for telling you to eat it, and then calling you a jerk.)
In the spirit of Idol friendship, Lee Jean, 16, and Sara Sturm, 18, are given some air time to discuss their friendship that has formed thanks to the competition. Harry calls Lee "heartbreakingly cute" and Jennifer believes that Sara is "much better than" the performance she turns in.
Jenn Blosil delivers a chilling version of "True Colors" and she just makes me happy. I feel like she deserves to be on the stage, and her Hee Haw overalls let us all know she isn't trying to be anything she isn't. She has character as well as talent, and I want to see her in the top 12… without even asking.
Emily Brooke, 17, has been given plenty of air time over these past few weeks as a returning contestant. For me, she's not exactly forgettable, but she hasn't done anything that completely stands out to me, either. Keith feels as if she "listened to her own voice too much" as she performed.
Next we get a trio from the Valley of the Lost Voices. Malie Delgado, 21, Mionne Destiny, 20, and Jessica Cabral, 21, all battle illnesses of their own in the final round of Hollywood Week. I like that none of them appeared to ever be contemplating giving up, but forged ahead and made zero excuses.
We also get to see performances by Joshua Wicker, 25, and CJ Johnson, 28.
Jeneve Rose Mitchell, 15, the girl from the side of the mountain, turns in a Kenny Loggins song, but J.Lo feels "she's barely got her voice down." There's something so completely different about her, I could easily see her in the top 24, though.
Dalton Rapattoni, 19, aka Boy Band Billy Idol, gives us an unusual take on "Hopelessly Devoted to You." I don't think I can blame FOX and a faulty mic issue (shout out to Grease: Live, I got your back Julianne Hough) for this unstable version. I'm a big fan of Dalton's, but this performance just went a little too theatrical and weird for me. (And I love Lady Gaga, so that's saying something.)
After all our American Idol hopefuls have given their final performance for the solo round, they are split into three separate rooms. Two will see the light of a brand new Idol day, while it's curtains and a depressing plane ride home for the other. Room Two is the unlucky group, and the only contestant I am sad to lose (that I can tell in those brief 86 seconds) is John Wayne Schulz. (The curse of the missing cowboy hat, perhaps?)
The highlight of the episode? All-too-brief flashes of Adam Lasher, he who has become the Where's Waldo? of American Idol Season 15. While still not having his audition featured (why do you hate me, Idol?), he will move on with 50 others for the live audience showcase round… that will lead us to the top 24.
American Idol Season 15 Episode 9 Review: "Hollywood Round No. 3"
Summary
The contestants are put to the test as Hollywood rounds continue.