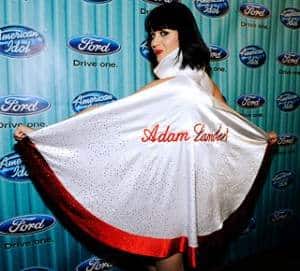 Less than one million votes separated American Idol finalists Kris Allen and Adam Lambert last night, but the real question is how many of the total 88 million votes placed belonged to American Idol eliminee Danny Gokey, and how will those votes split next week. Adam Lambert continues to be pegged as the odds on favorite, even gaining a sketchy endorsement from Katy Perry, who had the fab contestants moniker stitched into a cape. And Idol producers allowed that? Way to fuel the accusations that Lambert is being shown favoritism by American Idol producers.
While Gokey's elimination may be an indicator of which way the voters are leaning, it is clear that the competition has once again boiled down to raw talent vs. showmanship. Lambert's fan base has been Svengalied by his superior showmanship and shrill falsetto, while Kris Allen has almost humbly kicked ass on American Idol in recent weeks by being daring enough to simply be a competent performer.
Lambert is certainly getting his support from the Idol producers and Judges; this week – for instance — Simon Cowell himself gave the quasi political advice to Lambert fans not to assume victory in the place of voting for their favorite. This sort of favoritism isn't exactly discouraged on American Idol, but it would be difficult if not impossible to get Kris Allen to agree that Katy Perry's display was fair play.
Of course in the end, none of this matters. American Idol fans will vote for who they like and that person will win. If we've learned anything from Chris Daughtry, it is that you don't have to win American Idol to launch a successful career from it. At this point, it is hard to brand any of the contestants as winners or losers. The true winner this season is the fans, after a string of sub-par contests Lambert and crew have made American Idol exciting again; falsettos or not.
[poll id="3″]