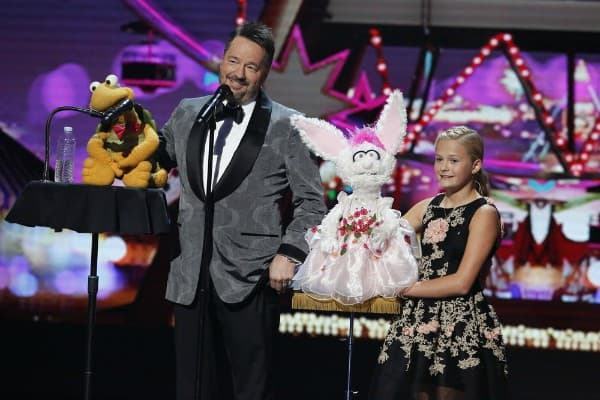 After weeks of competing, it all comes down to this. The acts have performed, and the country has voted. Who will be this year's million-dollar winner? Let's find out on tonight's season twelve finale of America's Got Talent.
Angelica Hale started things off again, this time joined by Kechi. The two sang Kelly Clarkson's Stronger (What Doesn't Kill You). Clarkson herself then made an appearance, and the trio finished the song. The American Idol winner then took to the stage and performed a new song called Love So Soft.
Dance troupes Diavolo and Light Balance came onstage next. The former did one of their previous routines to the music stylings of Harry Styles. The latter delivered yet another breath-taking performance with World of Dance judge Derek Hough taking part. I didn't know that Hough was part of the Light Balance team until he took off his mask. Very sneaky, AGT. Very sneaky indeed.
Deaf singer Mandy Harvey performed next singing Shania Twain's You're Still The One. The Canadian country singer then joined Mandy onstage and sang the song in a duet before performing her new song Life's About To Get Good. I loved that Mandy incorporated sign language into her final performance. It just adds a bit more of her unique personality into it.
Evie Clare and Chase Goering both got to perform with James Arthur. Evie sang Okay Day with the British singer/songwriter while Chase sang Say You Won't Let Go with Arthur. I don't know if it's nerves, but Evie's performance sounds a little off tonight. Chase's performance was okay, but his voice was drowned out a bit by James's.
Comedian Preacher Lawson didn't get to perform on the AGT stage this evening. Instead, he got to hang out with Howie and talk about comedy. Preacher then did his routine at the Laugh Factory with Howie sitting in the audience. When Howie did his Bobby voice, it brings back childhood memories where I used to watch the show growing up. Shame the comedian didn't make it to the top five as he was edged out by Darci Lynne.
Speaking of Darci, the young ventriloquist performed with none other than Terry Fator. The latter also performed with Paul Zerdin, the winner of season ten of America's Got Talent. Jeff Dunham made an appearance as well, doing a pre-show bit with Darci telling her of how he got into the business and told the young girl that he is very impressed with her skills.
Tyra then announced the top five acts which will then become the top two. Fifth place went to Sarah and Hero, no surprise there, no offense. Fourth place went to Mandy Harvey which shocked me. I thought that she would be part of the top two. Light Balance took third place which shocked me even more as I hoped that they would be the one to win the competition. Second place went to Angelica Hale, so that means the winner of season twelve is Darci Lynne. Congratulations to the winner and I'll see you next summer, AGT!
Final Notes:
I enjoyed the part where the judges were quizzed on their AGT knowledge. Simon had an unfair advantage since he created and produced the show. It was still interesting nonetheless.
When Simon attempted to speak with a southern accent, I almost burst out laughing. "I got my Dunkin' Donuts orange cup, but I don't got no oranges."
The segment where the judges brought their dogs for Sarah to train was fascinating to watch. The dogs didn't do much of anything other than milling about the room minding their own business. It was amusing, however, to see Howie get treated like a dog. Maybe someone should send him to obedience school. Kidding!
Photo via NBC
America's Got Talent Season 12 Episode 24 Review: "Live Results Finale"
Summary
Ten become five and five becomes two on this season twelve finale of America's Got Talent. Who will be the lucky winner?