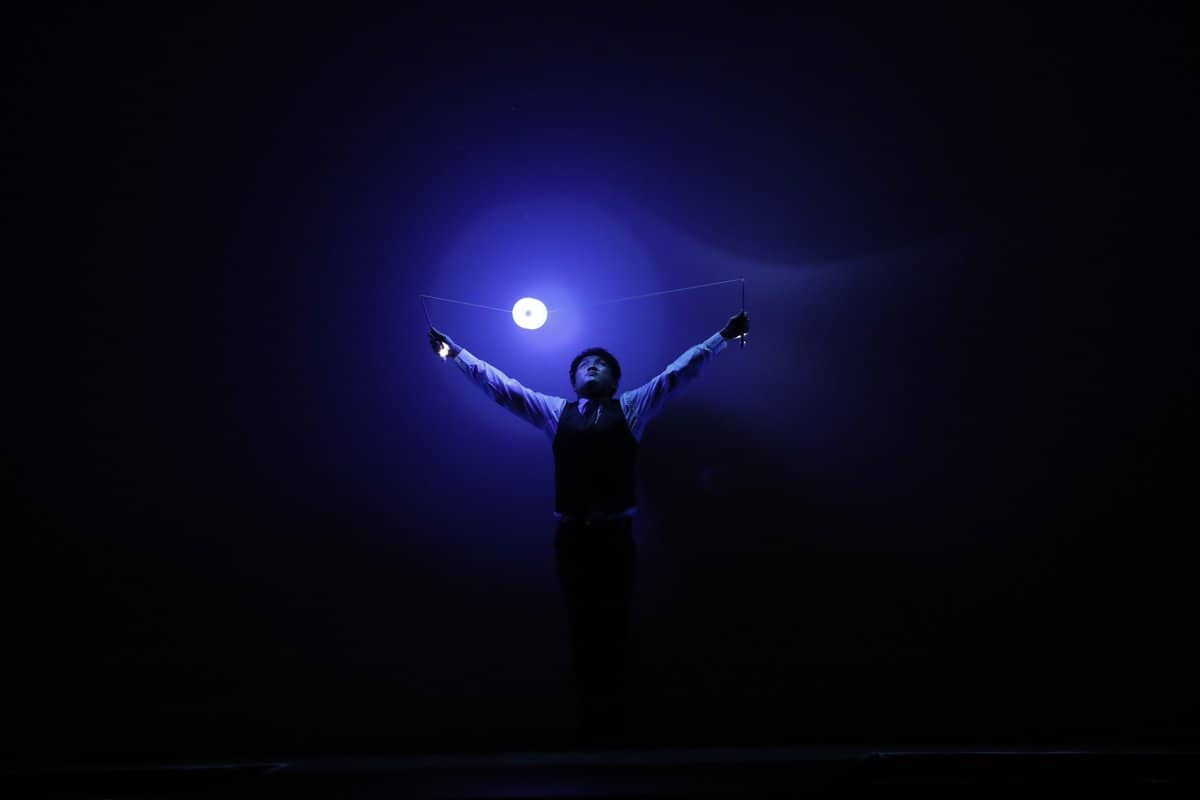 The thirteenth season of America's Got Talent is officially underway with this second night of auditions. It's time to weed out the bad and downright horrible acts and make way for the talented and jaw-dropping ones. Who will make it through to the next round? Who will the judges buzz? Let's get to it, shall we?
Best Acts
Mochi – This diabolo juggler from Tokyo, Japan dazzled the judges and the crowd with his skills. The special effects on the screen behind him moved almost in sync with the diabolo
Aaron Crow – I was as terrified as Mel B was when Aaron brought two people and Howie onstage with him. The katana-wielding man then glued his eyes shut with hot wax, wrapped gauze and aluminum foil around his head. He then proceeded to stab a paper bag filled with what I believe is seeds, break a wooden board with a small pair of nunchucks, and slice a pineapple in half on Howie's head with the Japanese sword. Howie, I hope that you can sleep tonight after your near-death ordeal.
Da Republik – The Dominican Republic dance troupe wowed the judges with their smooth choreography. Each dancer moved to the beat of one of Bruno Mars' songs. Should they end up being eliminated, they could consider going on World of Dance or another dance competition show and continue with their dancing dreams.
Michael Ketterer – My heart went out to this father of six as he fought his nerves to sing To Love Somebody. The song perfectly describes his heart-warming story about his family. His audition was so touching it led Simon to press the Golden Buzzer, sending him straight to the live shows. Congratulations, Michael! You deserve it!
Good Acts
Ricardo and Alejandro Rossi (Fratelli Rossi)Â – Their acrobatic tumbling act had me gasping. The first attempt did not go too well as one of the Rossi brothers fell onto the mat mid-tumble. They didn't give up as they tried the act a second time and the crowd, as well as the judges, who were on the edge of their seats, loved it. These two are the definition of never giving up!
Christina Wells – My eyes went wide when the forty-year-old registered nurse revealed that she missed possible singing opportunities due to her size. After she performed Queen Latifah's rendition of I Know Where I've Been from the hit musical movie Hairspray that blew off the metaphorical roof, Simon said to her that singers should not be singled out because of their weight. It's their voices that makes them or breaks them. I couldn't agree more, Mr. Cowell. The girl that auditioned before Christina was an excellent singer as well with her soulful rendition of Take Me to Church.
Us the Duo – This husband/wife musical duo belts out an original song that they wrote as their wedding vows. I loved the song, and I have to agree with Howie's comments afterwards. It felt like something that one would see in a coffeehouse or at a small outdoor concert. Hope they can think of ways to get out of that vibe in the next round of the competition. Fun Fact: Their song, No Matter Where You Are, is on the soundtrack of Guillermo Del Toro's animated film, The Book of Life. I knew it sounded familiar!
Average/Bad Acts
Lily Wilker – I liked her various animal impressions, but it's not exactly a million-dollar act. Simon brought up this exact point when it was time to critique the little Ohio girl's audition. I feel like the judges allowed her to move onto the next round because she's a child, but that's just me.
Yumbo Dump – When I saw these two come onstage when the two hours began, I almost changed the channel. Their act is not unique enough for one to pay to see in Vegas. Perhaps this particular act is much more suited to an up-and-coming travelling circus than the AGT stage. I was surprised that the judges gave them three yeses. Maybe they will do something different in the next round though I have a feeling that they'll get eliminated faster than they can produce sounds with their bodies.
Shawn and Lindsey – I'm a fan of stand-up comedian duos. It's actually quite popular in countries like Taiwan and China where two people go onstage and perform a scripted sketch that incorporates humor and historical knowledge. Shame this husband/wife comedy duo did not measure up to that standard as their audition failed miserably. Perhaps they should pursue other fields of expertise and steer clear of comedy.
Alex Hooper – For a person claiming to spread happiness through positivity and comedy, he can sure dish out insulting remarks. The sparkly spandex-wearing man from Los Angeles spewed out his negativity at the judges and Tyra. Simon found him funny despite what Alex said about him. At least we won't have to see Alex's face on screen anymore.
Photo via NBC
America's Got Talent Season 13 Episode 2 Review: "Auditions 2"
Summary
Auditions continue with dance troupes, comedy duos and talented singers in this second episode of season thirteen of America's Got Talent.