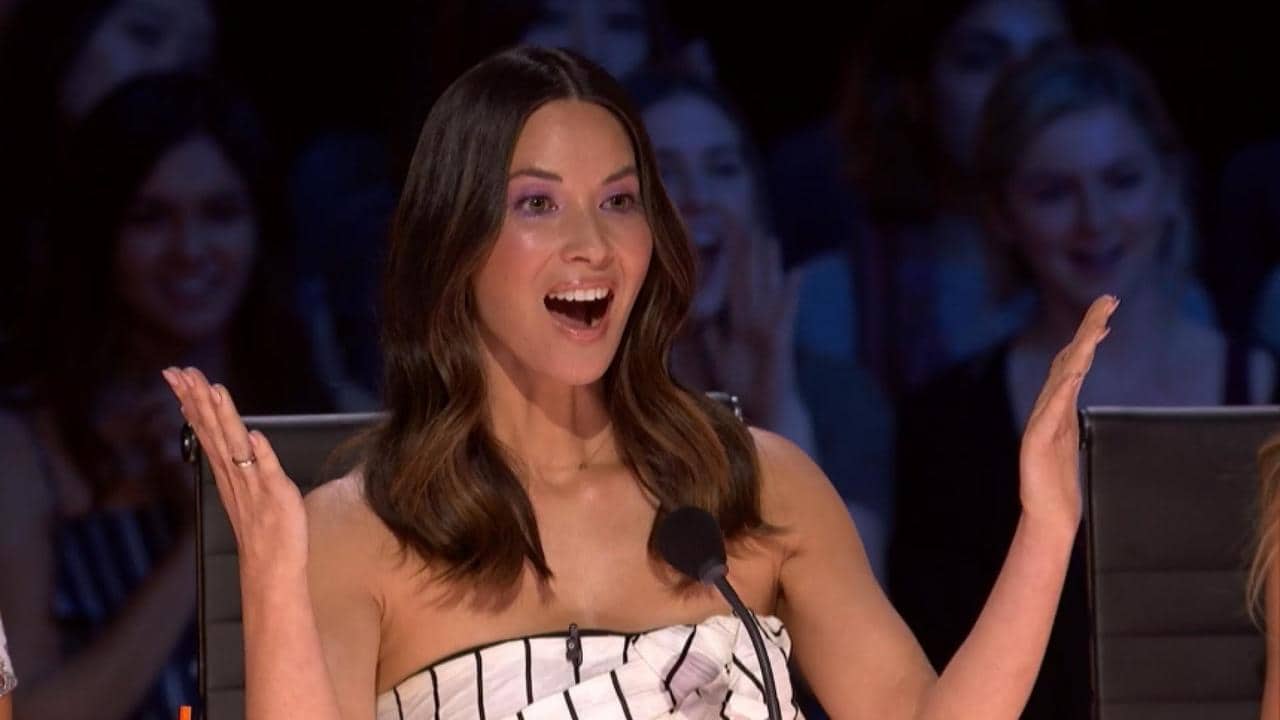 Judge Cuts continue on tonight's America's Got Talent. The judges must select another group of seven acts to send to the live shows. Actress Olivia Munn is the guest judge for this evening. Which act will she choose as her Golden Buzzer?
Stepped Up Acts:
Shin Lim – I mean, there are no words to describe his performance other than mind-blowing. The execution of his close-up magic is so quick that you can't really figure out how he did the trick. Oh, congratulations on your engagement, Shin! Your fianceé is very beautiful!
Rob Lake – Even though Simon did not like the performance, I thought it was pretty well done. I mean, he got chained up by his female assistant and then switched places with her after the curtain dropped. If I had one tiny bone to pick it would be the time it took to do the trick. It felt a little slow for me in some aspects. Hope the judges will give him a spot in the second top six!
Vivien Vajda – This girl is a trooper! She broke both her ankles during practice but she soldiered on with her routine. Two males flanked her sides, helping her with the act and then one of them carried her offstage bridal style when the performance ended.
Angel City Chorale – Although I much preferred their previous audition over tonight's, they still did a decent job singing an African hymn. I guess Africa is a common theme with this choir. Olivia loved the choir so much she pressed her Golden Buzzer, sending them straight to the live shows. I'm a bit torn by her decision to send the choir to the lives, but I'm sure that they won't let her down when the time comes.
Vickie Barbolack – Much humour this woman has! Sorry, had to channel my inner Yoda there. The last act of the night is comedian Vickie Barbolack. I teared up when they showed her introduction video where she talked about her struggles in life and her relationship with her daughters. The judges gave her a standing ovation after her routine.
Average Acts:
Accordion Hans – I like his stage presence, but I do not care for his singing. The man can't exactly hold a note to save his life. Then again, I can't really sing either so I have no right to judge. Anyway, Hans performed The Weather Girls'Â It's Raining Men while dancing around the stage and playing his accordion. I'm kind of hoping that he doesn't get to go through but you never know.
The Future Kingz – I'm not a dance expert, but their performance tonight is far from perfect. I do give them credit for having a lot of heart though. Both Olivia and Mel B love their song selections of Bruno Mars, Bel Biv DeVoe and MC Hammer. The dance troupe brothers got a standing ovation from all of the judges except for Howie.
Shannon & Reckon – Their previous audition is well-executed. This time, however, they failed to step things up. The whole gym workout routine did not sit too well with the judges and the audience. I have a feeling that this is the end for them.
Sophie Fatu – Oh my goodness gracious, I get she's adorable but she is not a singer! I applaud her for belting out another Sinatra classic New York, New York, though I do not find it entertaining. The judges did not want to hurt her feelings given that she's a young child. I just wish that someday the judges will offer some constructive criticism to child acts. It might hurt their self-esteem a little, but it's better than to sugarcoat things and tell them they did great when in reality they did not do all that great. I snickered when Simon told Sophie that his son Eric has a crush on her and when the camera cut to the young boy, he shook his head vehemently.
Second Chance Act:
Joseph O'Brien – Out of all the singers in this competition, there's so few that really impressed me. When Joseph covered I Can't Fight This Feeling by REO Speedwagon, I moved along to the music. Suddenly, Simon stopped him mid-song, I guess he did not like the song choice (I thought it was great). Joseph then sat back down at the piano and did an original song which ended up impressing the judges.
Top Seven (Second Group):
Shin Lim
Angel City Chorale (Olivia's Golden Buzzer)
Accordion Hans (I'm kind of shocked by this)
Rob Lake
The Future Kingz
Vickie Barbolak
Joseph O'Brien
Next Week: Judge Cuts continue on as Martina McBride serves as the third guest judge.
Photo via NBC
America's Got Talent Season 13 Episode 9 Review: "Judge Cuts 2"
Summary
Olivia Munn joins in on the talent fun on tonight's episode of America's Got Talent as the second round of judge cuts get underway.