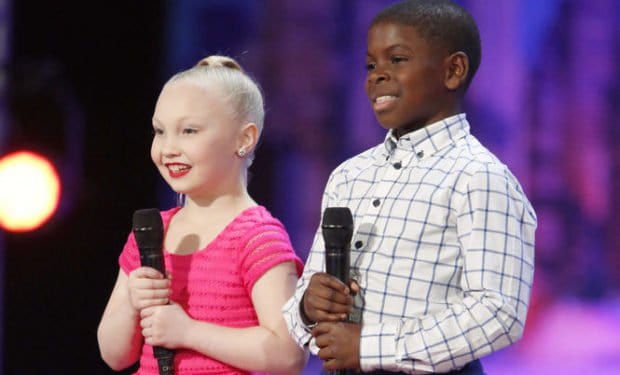 Social media is lighting up with shares for the recent performance of two adorable kids doing a "Dirty Dancing" routine. They're performing on "America's Got Talent" to throw their hats in the ring and try to become the million dollar act of the season. They ran into a few obstacles along the way, but the two youngsters are making waves with their entertaining act. Here is what we know about the two little sweethearts.
Artyon and Paige
Artyon and Paige have no doubt been practicing together for a while. They are just 8 and 9 years old, but they have a magical chemistry when they dance with each other. The partners had the audience in the palms of their hands, although they didn't hit it off as well with all of the judges. They performed their routine to "I've Had The Time of My Life" by Jennifer Warnes. Their dance was dubbed the dirty dancing routine because the song is from the hit movie "Dirty Dancing."
Beautiful Coincidence
As the young couple appeared to deliver their amazing performance, it just so happens that the musician Seal was on board as a guest judge. He and Heidi Klum were formerly married for 6 years, but are now divorced. This doesn't seem to affect their ability to work together and get along well. Many fans of the show compared the kids as miniature versions of Seal and Heidi because there is a little resemblance between the two couples. This made the performance even more special to viewers. This was a touching episode.
They have a presence on social media
Artyon and Paige have a Facebook page that tells a little more about them. Here, they list their contact information for twitter and yahoo. They understand at an early age that it's important to let people know who you are and what you're doing. They share their affiliations which include of course, "American's Got Talent," and in addition, they have appeared on "Big Shots with Steve Harvey," "Lip Sync Battle Shorties" and "Ellen." There isn't a lot of information on their home page, but they do share that they are from Southern California and they also state "We are enjoying life and chasing our dreams, please join us on our journey!" This is so incredibly sweet. The dancers have 11,921 followers on Facebook.
Simon lost a few points after the judging
Most viewers thought that the kids nailed their performance, They danced to "Barbie Girl" and delivered a series of tumbling, lifts and other exciting moves. Simon actually gave the young performers an X for their efforts. It was Heidi, who was joined by the other two judges that rescued the pair so they could continue on in the competition. It couldn't be coincidence that the entire audience including Heidi came to their feet in celebration of the performance. Whatever was stuck in Simon Cowell's craw this night lost him a few popularity points with the viewers. Artyon and Paige are going through to the next round and the fan base that they have amassed is excited to find out what they bring to the floor on the next competition.
https://www.youtube.com/watch?v=VIX96fUm0co