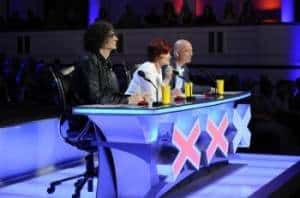 NBC has announced that America's Got Talent will return tomorrow, WITH Sharon Osbourne.  While making no mention of the fact that Sharon had quit America's Got Talent, NBC mentions her by name in the press release that was distributed this morning.  Sharon has not made any public comments regarding her participation in America's Got Talent since she publicly quit the show.  If Osbourne does indeed return, it will be interesting to see if she acknowledges the tiff or if everything goes on as if it never happened.
Sharon had quite the show alleging that NBC had discriminated against her Son Jack who thought he had a spot on Stars Earn Stripes.  Jack's bid to join the show fell apart when he was diagnosed with Multiple Sclerosis. NBC has responded to Sharon's outburst by first saying they still consider her a part of the NBC family, then by stating that their actions had Jack's best interests in mind and that he was never under contract to appear.  They also claim they offered him various other positions on the show despite the fact that he was not medically cleared to compete.
NBC'S top rated show "America's Got Talent" returns all new on Tuesday, August 14th (8-10 p.m. ET), with live performances from 12 brand new acts selected from YouTube. This year, thousands of acts from across the country submitted videos at www.youtube.com/agt , hoping for a chance to perform live on America's biggest stage and for a shot at bypassing the competition to become a Top 24 act. Unlike any other talent competition, "America's Got Talent" is the only stage that encourages the best talent from all areas, at all times in the competition, giving fans the power to fast-track their favorite new acts into the semi-finals. Previous "America's Got Talent" YouTube auditions have resulted in the discovery of young opera sensation Jackie Evancho and Chicago-based BMX racer, Matt Wilhelm.

This year's YouTube acts include 16 year old self-taught Memphis musician Drew Erwin, the fan-selected winner from the YouTube Snapple auditions. Erwin will make his AGT debut in front of judges Howie Mandel, Sharon Osbourne and Howard Stern on Tuesday, alongside the 11 additional YouTube acts that were selected by the show.

On Wednesday's results show, viewers will get a never-before seen look at a day in the life of celebrity judge Howard Stern. From his radio program, to his cross town commute to "Americas Got Talent," to a look behind the scenes at AGT, fans will follow Stern in an exclusive peak at his day before he takes his judges' seat to announce the four acts from Tuesday's show that will move on to the semi-finals.