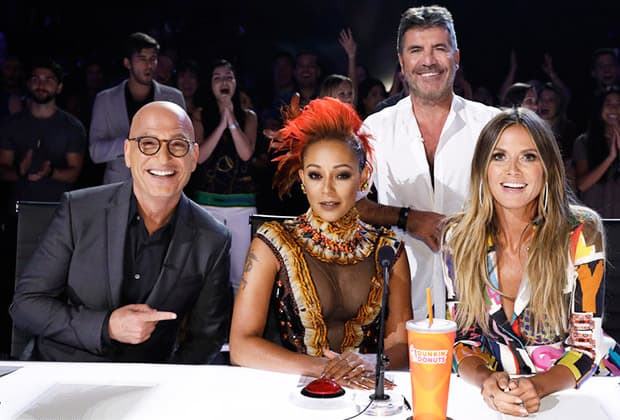 It is that time again. The moment where you bite your nails as your heart pounds rapidly. On tonight's episode of America's Got Talent, we find out what the first top five acts are. Will your favorites make it through?
The bottom three this time was a bit of a shock. Chase Goering and Eric Jones didn't deserve to be in the bottom three. Their performances were really good last night. Guess America thought otherwise. I felt sorry for Evie Clare, but her performance last night was not her best. My eyes went wide when Evie was the Dunkin' Save. Should have saved Eric Jones instead. Maybe the magician will come back next year. Hopefully.
Comedian Preacher Lawson is the first to go through to the semifinals. I loved his performance last night, he more than deserves to go to the finals. Perhaps he should partner up with either Dave Chapelle or Russell Peters and do a set together? Just saying.
When Darcie Lynne was selected, I all but applauded. It's quite amazing that someone so young could do something like ventriloquism. I know that I said that this year's winner should not be another child, but I may have to eat my words come the finals.
Last season's runner-up, The Clairvoyants, returned to the AGT stage to perform. The mentalist duo used their skills to turn Howie and Mel B into mentalists. My mind is baffled at how they were able to do what they do. If they ever come to Vancouver to do a show, remind me to get tickets.
Sarah and Hero were the next to go through. To be honest, I didn't like their performance as much. Though I do commend them for coming up with a routine in five day's time. I am intrigued to find out what the two of them will do next.
As the episode drew to a close, the judges decided to save Chase Goering over Eric Jones. I felt great sympathy for the magician. I can only hope that he can come back again next year as he perfects his craft. Stay awesome, Eric!
Top Five
Preacher Lawson
Darcie Lynne
Sarah and Hero
Chase Goering
Evie Clare
Final Notes
I laughed out loud when Simon barked like a dog as he critiqued Sarah and Hero's performance. Never thought I'd see the day.
The show also brought back the Buzzer Buddies segment. It's interesting to find out more about the judges. For instance, I didn't know that Simon's middle name is Philip. That, and the fact that Mel B does not like Heidi's singing.
Photo via NBC
America's Got Talent Season 12 Episode 20 Review: "Live Results 4"
Summary
The semifinals end as eleven acts are whittled down to five on tonight's episode of America's Got Talent.