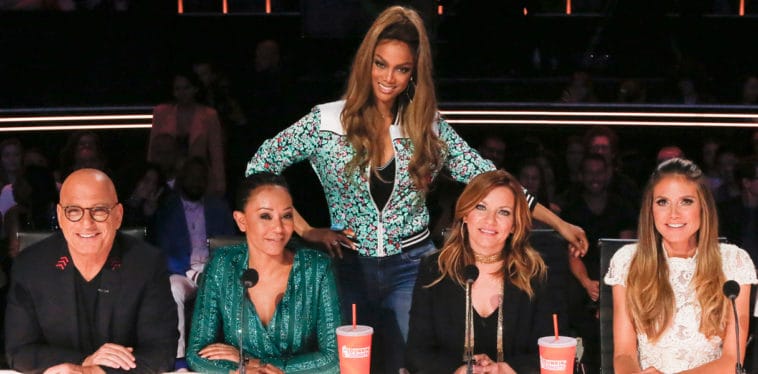 The judge cuts keep plowing forward as eighteen more acts fight for a spot in the third group of seven. Country superstar Martina McBride serves as the third guest judge on this week's America's Got Talent. Which act will she send to the live shows?
Good Acts:
Jeffrey Li – This young singer from Toronto wowed the crowd with his cover of Whitney Houston's One Moment in Time. His powerful voice rang out through the theater and earned tons of respect from the judges and a standing ovation from the audience. Martina noted that Jeffrey was nervous during his performance, but assured him that she loved it. Shame he didn't get the chance to go through to the lives, he would have rocked it.
Angel Garcia – The young Spanish singer also amazed the crowd with his rendition of Bruno Mars's Just the Way You Are. He first sang the song in Spanish before ending it in English with his own spin on the melody of the song. Little Angel suffered the same fate as Jeffrey and was also sent home. Hope that the two boys can come back to the show as Wild Cards.
Quin and Misha – This young/old dancing duo stepped things up with an energetic performance. I'm still quite amazed that Quin could still move the way that she does at her age. Perhaps my grandmother could learn a thing or two from her. On the other hand, she's a bit older than Quin…maybe it wouldn't work out.
UDI Dance – I love these guys! Their second audition is better than the first as it had more drama and suspense to the story that they were telling. I wonder how they did the whole injured and healing part so quick? Are they part magicians as well as dancers? I want to know!
The Sacred Riana – This girl still creeps me out every time I see her. Her first audition was scary enough and this time, it still makes my skin crawl. When the imaginary friend appeared from the haunted dollhouse, I literally gasped. How did she do that and who is it under that long hair? Is it a friend or an acquaintance agreeing to help her out with the act? I'm putting her here because I don't want a curse put on me.
We Three – The brothers and sister trio belted out another original song, called Lifeline, for their second audition. It's about dealing with ones' demons and facing it with courage. Like Mel B, I loved the lyrics and the passion behind the song and I applaud them for continuing to honor their late mother by making great music.
Semi-Improved Acts:
The Savitsky Cats – The judges say that they have stepped things up since their first audition. Personally, I felt like they only slightly improved on what they did the first time. I understand cats are hard to train, and like Simon said, "Dogs want to please and cats are like 'make me'", but to quote Shania Twain's song: That don't impress me much.
Blue Tokyo – I have much respect for this Japanese dance troupe. Yet when I watched their performance, I felt bored. The choreography is good, and they added new tricks and stunts, but I think that it's still missing something. They got sent home after it was all over. I pray that they won't let this deter them from achieving their dreams.
OC Dance & Music – This singing/dancing group promised the judges that they would put more focus on individuals. Guess it didn't quite work out when the critique was that they performed better as a group. The final verdict is that their AGT journey has ended. Maybe try again next year? I've seen acts that auditioned for the show before and the judges said "No". They would then come back to audition the year after and some moved on to the later rounds of the competition.
PAC Dance Team – I loved the whole performance, I just didn't relate the songs they chose with their dance routine. The theme is Alice in Wonderland, but it felt like watching a normal dance act rather than go down the rabbit hole and into Wonderland where the Mad Hatter's tea party never ends and the Queen of Hearts making heads roll. I have to give them credit, however, for improving on their first audition.
Noah Guthrie – I would have put him in the Good Acts category if it weren't for the fact that his first song choice did not fully express himself as a person and a singer. Simon gave him another chance and the song Noah sang the second time, Whipping Post by The Allman Brothers, reflected his personality much better than the first.
Ms. Trysh – I'm putting her in this category because I loved her first audition. Her nerves got the better of her this time when she covered Simply Red's If You Don't Know Me By Now. She forgot the lyrics part way through and felt very disappointed in herself. I agreed with her when she said that she would have done well in the live shows.
Top Seven (third group):
Quin and Misha (Martina McBride's Golden Buzzer)
We Three
Noah Guthrie
The Sacred Riana
PAC Dance Team
UDI Dance
Savitsky Cats
Final Guest Judge for last round of Judge Cuts: Chris Hardwick
Photo via NBC
America's Got Talent Season 13 Episode 9 Review: "Judge Cuts 3"
Summary
18 more acts battle it out for a spot in the third group of seven acts to be sent to the live shows in this week's episode of America's Got Talent. Country legend Martina McBride serves as the third guest judge.