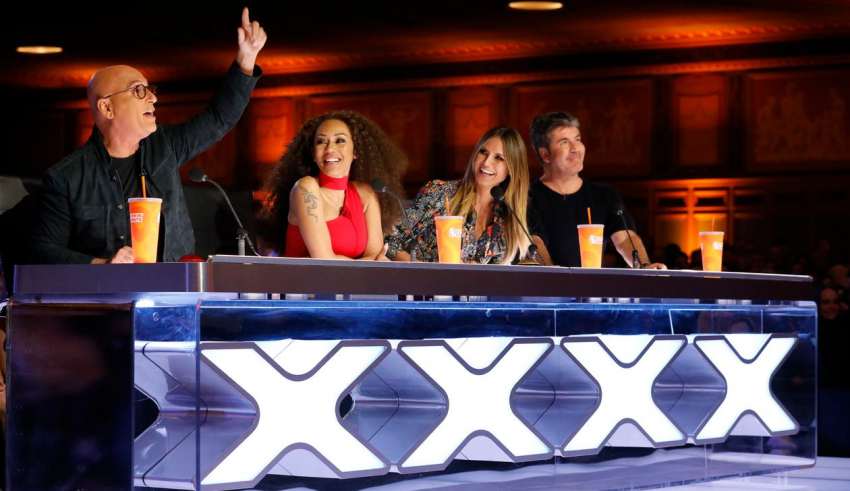 We all have the dream of pursuing our passions on a full-time basis. To end the nine-to-five routine and do what we want. For some, that may be the case, but sometimes, it's best not to quit one's day job. However, on tonight's episode of America's Got Talent, day jobs are the least of their concerns as the auditions continue. Will there be a final Golden Buzzer moment?
Best Acts
Vivien Vajda – This skilled jump roper from Hungary energizes the crowd with her quick flips, splits and various tricks. Mel B even said that she couldn't do what Vivien did aside from being a decent jump roper herself. Heidi then prompted the former Spice Girl to get onstage and prove it, but it never happened. I also sympathized with her when she brought up her past of being bullied as I went through a similar situation.
Joseph O'Brien – When this small-town singer came onstage, I figured that he would sing something country or hip-hop. What I didn't expect is him singing Lionel Ritchie's classic Hello. He made that song his own and his vocals are on-point. I bet after this; he's going to have girls lining up waiting to get the chance to date him. I would volunteer as tribute, but I'm a bit too old for him.
Glennis Grace – This thirty-nine-year-old singer wows the judges and the audience as she belted out a near perfect rendition of the late Whitney Houston's Run to You. Both Heidi and Mel B said that her voice is almost identical to Whitney's which I agree wholeheartedly. Ms. Houston would be proud if she were still with us today. Kudos to Glennis for getting four yeses and moving on to the next round!
Kenny Thomas – All the way from Paris, France, this motorcycle-riding daredevil shocks the judges with his adrenaline-pumping performance. The catch? Howie has to join him onstage and be part of the act. The comedian laid down on the floor with his arms and legs spread wide like a starfish while Kenny gets all Russian Roulette on him with his motorbike. The French daredevil ended his audition with a big flip and stopping in front of Howie. He got four yeses.
Rob Lake – After I watched Rob's act, my mouth was agape for a good couple of minutes. He got a few audience members, along with Heidi and Tyra, onto the stage. He then left the theater but still made himself present with a live video feed on his phone. Later, the illusionist suddenly reappeared onstage behind a white curtain held up by Heidi and Tyra, baffling everyone as to how he managed to accomplish the feat. Cameron Black, you have some competition.
Brian King Joseph – The violinist came to AGT as a last chance of realizing his life's dream before a nerve disease kills his ability to feel in his hands, feet and the rest of his body. He can play the violin still due to muscle memory, but his hands are quickly losing function. Playing with a broad smile and energetically moving around the stage to the beat of his music, Brian earned the respect of the judges and also a standing ovation from the audience. Best of luck in the next round, Brian!
Freaky Act
Twisty Troy – This HR guy/contortionist freaked me out with his body-bending abilities. I agreed with Simon when he said that Troy's audition felt like The Exorcist in a way. It's going to be on my mind for the rest of the night.
Average/Mediocre Acts
Andy Huggins – His jokes were not amusing. I half zoned out at the beginning of his audition. I understand that the show welcomes acts of all kinds, but maybe he should fine-tune his material a bit more before coming onto the show. However, I do give him props for getting up on that stage and getting a few laughs from people.
Dr. Steven Eisenberg – This doctor-turned-singer attempted to amaze the judges with an original song dedicated to his mother. Unfortunately, all that got him was four Xs. Eisenberg's mother then came onstage and spoke to the judges, hoping that they'll give her son another chance, but they did not change their minds. I guess he had an act only a mother could love.
Golden Buzzer Act?
Brody Ray – I quite enjoyed his take on Jordan Smith's Stand in the Light. I expected Heidi to press the Golden Buzzer, but she refrained from doing so. Perhaps she is saving it for a better act even though this is right up there. A shout out to all the transgender people out there: be your most genuine self no matter what anyone tells you.
Photo via NBC
America's Got Talent Season 13 Episode 5 Review: "Auditions 5"
Summary
More acts arrive at the infamous America's Got Talent stage hoping that they'll get the chance to make their dreams come true. Who will succeed and who will be sent home?