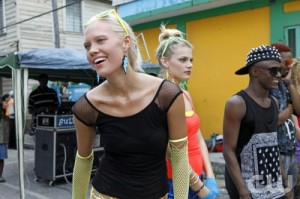 The CW has announced that the cycle 19 finale of America's Next Top Model will be a two-hour event. The first hour, airing on November 16th at 8:00, will crown the next winner of the venerable reality franchise, while the second hour ("The Girl With The Best Top Model Freakout") will feature never-before-seen footage from the cycle. Typically, this type of episode would air the week before the finale in place of a new episode, but this year, The CW decided to use it in a different way, perhaps as a way to keep momentum late in the cycle. As a result of the schedule change, the episode of Nikita that had been slated to air that night has been postponed until a later date.
Currently, America's Next Top Model is down to the final five, as Leila, Laura, Kristin, Kiara, and Nastasia are battling for the top spot while in Jamaica. Although it may look like Laura has a pretty clear path to the title, the return of Leila and a surging Nastasia present the biggest threats to her victory and won't let her coast to the final two. Laura will have to continue to perform in order to advance in the competition, as now's not the time to rest on one's past performance. The winner of Top Model will receive a modeling contract with LA Models & NY Model Management, become the face of the America's Next Top Model fragrance "Dream Come True", earn a spread in Nylon magazine as well as campaigns with Nine West and Smashbox Cosmetics, and receive a $100,000 cash prize.
America's Next Top Model airs Fridays at 8:00 on The CW. You can check out a recap of the most recent episode here, as well as a preview of the next episode here, which finds the final five modeling underneath a dangerous waterfall.
Who do you think will win cycle 19 of America's Next Top Model? Will you be watching the special airing after the finale? Are you looking forward to cycle 20, airing next summer?