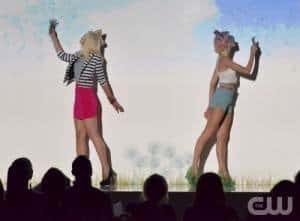 The past couple of Top Model cycles have incorporated music much more than in previous years. Sure, you had a "video girl" challenge now and then, as well as The Great Shake Ya Body Debacle of 2004, but it always felt more tangential than something truly important in the cycle. With the music video challenge becoming a Top Model staple, having been included in two cycles running, it was only a matter of time before a single was to be released.
Cycle 18 champion Sophie Sumner received, among other things in her ginormous prize pack, a record contract for a single with CBS. On the same night of her victory of American spitfire Laura LaFrate, the single has made its debut. It's a bubbly, 80s drenched piece of dance-pop that's honestly a pretty cute song, especially when accompanied by the highlight reel that The CW made for the song's preview below.
And it also includes the line "'Cause I've got my smize on you" because of course it does. Never change, Top Model. Never change.
The idea of a Top Model single may seem silly, but this is less "I'm trying to be Katy Perry" and more "Here's a gift to my fans that will keep my name out there for a little while longer.". The show has made a point that models should be multi-dimensional and willing to branch out, so the inclusion of a single only gets their foot in the door that much more. And that's a good enough reason for it to be included.
Top Model returns this fall for its 19th cycle, this time on Fridays. If you missed my review of the British Invasion finale, you can check it out here.
What do you think about Sophie's song? Do you think she deserved the victory over Laura? How do you feel about Top Model bringing a single into the prize pack?