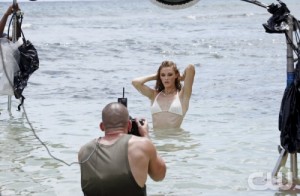 After a whole lot of silliness, even more in-house drama, and the return of Leila from America's Next Top Model Purgatory, we're down to the final three models of cycle 19. The finale, airing next week, will pit high fashion comeback kid Leila against stumbling frontrunner Laura and improving Kiara in a fashion fight to the death that will be as gory an episode of Top Model as we've ever seen.
Or they'll do a ridiculous runway show, try on a lot of pretty clothes, and one of the three will earn a spot in the annals of reality TV history.
The episode will feature two major photo shoots in their campaign for Nine West and their spread for Nylon, which will continue the trend started by the Dream Come True ad work they did on the most recent episode. If that wasn't enough, they'll have to compete in the final runway that will feature eliminated contestants from the cycle and will reportedly take place at the haunted Rose Hall Great House in Montego Bay. The girl who doesn't lose her nerve and manages to keep her balance in the topsy-turvy world of the Top Model finale will be walking home with the expanded collection of goodies introduced this cycle, as well as the pride of knowing that she was indeed the fiercest one of all.
The finale of America's Next Top Model: College Edition airs Friday, November 16th at 8:00 on The CW. At 9:00 the same night, there'll be a special episode of the show that will feature never-before-seen footage from the cycle, which replaces the episode of Nikita scheduled for that night. You can check out a recap of the most recent episode of the show here, as well as the TVOvermind America's Next Top Model discussion forum here.
Who should win cycle 19 of America's Next Top Model? Is this the final three that you expected to see? If not, do you think anybody was robbed of a chance to compete for the title?
http://www.youtube.com/watch?v=WeBF58Hd3GI
[polldaddy poll=6679570]