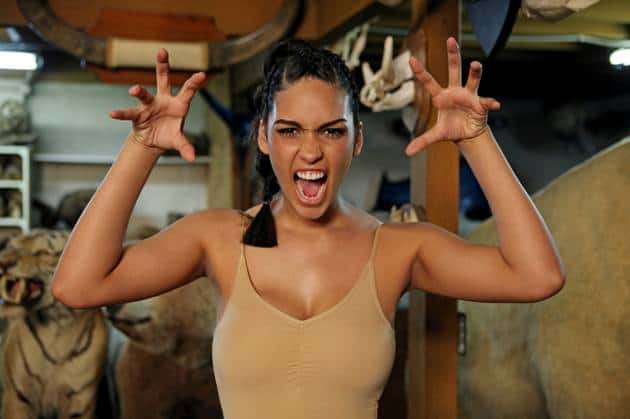 Now that we have the top 13 girls picked to live in a house to find out what happens when people stop being polite in hopes of becoming America's Next Top Model, cycle 19 will begin to take shape. Going into the premiere last week, you didn't know what the show would look like after an offseason of turnover and makeover – make no mistake, Top Model will be Top Model come hell or high water, but after 19 cycles, change can be a little scary. Can the show manage to keep its (decidedly distinct) personality while evolving in all the right ways?
The Tyra Suite…and Other Goodies
You thought Top Model had done the most regarding how much change they've implemented? Apparently, they're just getting started, since "The Girl Who Cries Home" began with Tyra explaining that the expanded prizes, new judges, new theme, and social media implementation only began to scratch the surface of Top Model's rejuvenation.
Everything will be graded – the challenges, the judge's critique, the social media reaction – on a scale of 1-10, with the girls being called out at panel not by judge's preference but by their score for that week. (Tyra managed to work in the world "qualitatively", so snaps for working that education, Miss Tyra.) In addition, the winner of each challenge (and the best photo of the week) will be getting a key to the Tyra Suite, a huge bedroom with an even huger closet stocked with items from their sponsors goodies to make each victory that much sweeter. It's admittedly a very nice room that's very much the "den mother" residence in the Top Model sorority house; the Tyra-fication didn't even strike me as that excessive, if you can believe that. I know, it wouldn't be a Top Model house with Aunt Tyra staring us in the face, but aside from the (delightfully) tacky fireplace plastered with a collage of her images, it's mostly Tyra's words that cloud the room.
The Challenge
When I think of modeling, I think of night clubs and hula hoops, don't you? Of course you do, you watch Top Model and your brain is likely to be as warped as mine. Since apparently the ability to serve face is predicated on your capacity to play to the crowd and sashay in your lucite heels, Top Model takes us to the club to get our walk on, thanks in part to movement coach/professional choreographer Jonte. A bundle of energy that takes over Ms. J's role as Top Model zestmaster, Jonte gets to supervise each girl getting a chance to work the stage, since cycle 19 will be all about audience engagement. The winner of the challenge is beauty queen Yvonne, who literally acted like a dog in front of a fire hydrant, with Nastasia's fluid movement, Brittany's very cute ring riding, and Darian's natural swagger all earning high marks.
Pretty much everybody else was either forgettable (Laura, Allyssa, Destiny, Kiara) or a hot mess, Jessie radiating awkwardness, Leila hitting her head, Kristin letting her butt hang out, and Victoria being…Victoria. Runway hasn't been a big part of Top Model in a while and judging by the performance of the group, I think they might not have prepared themselves as well as they could.
House Drama
Destiny and Kiara hate each other (Destiny got pissy about her challenge performance, Kiara critiqued her without the slightest hint of humor) and are trying to assert the dominant female of the house. Kiara's a bit abrasive and self-righteous, Destiny's not that invested in the modeling and has a bit of an attitude, and from the looks of the promo for next week, their drama won't be ending anytime soon. Blah.
But at least everybody can agree that Victoria is a mess. As I mentioned last week, I want to like Victoria because I feel like I understand her situation and why she is the way she is – her unusually close relationship with her mother filled the hole that the lack of peer group social interactions left, so she has no idea how to be out on her own or connect with people. But in between all that, Victoria has inflated opinion of herself (the comments about her walk being "groundbreaking" and her bitterness over losing), a weird view on how the rest of her life will work (she thinks her mother will fulfill her in ways a man can't), and seems to have stopped emotionally growing around age 5, breaking down upon hearing her mother's voice for the first time since she left.
When every child goes to school, they tend to have a reaction to leaving their mother. There are some who don't bat an eye and come into the world of education ready on day one, while others cry, scream, and dread seeing the tail lights of their parent fading in the distance. For that type of child, the more they go to school and establish connections, either academic or social, the more they become comfortable in their new environment and the less they act out upon leaving the parent. Victoria never had to go through that, so she gets to have her temper tantrum on national television at 18 years old.
The Photo
The girls have to pose for 90210's Shenae Grimes in a taxidermy-themed shoot that might be one of the strangest things this show has ever done. Wearing only a nude bodysuit, they each put their head through a hole in the wall and have a plaque closed in on each side, making it look like their head has been mounted and placed on a wall. I'm of two minds here – I completely get what it was going for in terms of modeling. You want to be able to see how they can work their facial angles and different expressions without relying on movement and the typical Top Model bells and whistles. It's a good way to read some basic skills and see where each model is heading into the competition. But it makes each model into nothing more than a (literal) piece of meat and is just disturbing enough to go from silly-stupid to silly-unnecessary.
In terms of performance, the standouts are Nastasia with her precise facial changes and risktaking, Brittany with her willingness to not rest on pretty, and Leila with her other worldly beauty, though there were many more negative photos that showed that most of the girls aren't there yet. Kristin got to channel her natural ice princess demeanor, leaning into a character trait that I'm already tired of from her, while Jessie, Laura, Destiny, Maria, Kiara, and Yvonne were essentially blank canvases. And not in the good way.
Panel
Panel brings out another new face in fashion blogger Bryanboy, a tiny man in a tiny veil wielding a clipboard and the social media commentary that each contestant received for her photo that week.  When each girl had her name called to come forward for her critique, we had random comments from the internet judges, a mixed bag of positive and negative, plastered across the screen, in addition to the use of several video messages overall and at least one comment per girl. The fan vote wasn't revealed until the final score was flashed once Tyra began handing out photos and it looked like they're pretty tough judges, as plenty of 4s, 5s, and 6s scrolled by and often came in below what the judges had to say. Also, there's a scoreboard because Top Model doesn't do enough to mess with the minds of the contestants.
While I liked Jonte a lot and found both Johnny and Bryanboy to be fairly inoffensive additions to the Top Model family, Rob is very much the Nigel of the cycle, much to my dismay. Kelly gets to be a little tougher, Tyra plays the role of cheerleader, and Rob is more mumbly eyecandy than anything, not making a great critique or an interesting observation during the panel. He's charming and offers an interesting perspective as a working model and someone only in their early 20s, but for now, he didn't read as being comfortable in his new role. At least not yet.
Who the internet decided to champion will be one of my favorite things to keep track of this cycle, as they already have favorites, per the comments/general impression that Bryanboy mentioned. In the shockingest shock of all shocks, the internet prefers the blonde-haired, blue-eyed Kristin, a continuation of what happened in the premiere episode. I don't get good vibes from her at all and I have a feeling she'll be from the Paris Hilton school of socialite modeling (i.e. "I'm pretty, isn't that enough? Let me hit the same pose over and over again"), particularly in comparison to some of the girls that she outscored. On the internet's bad side are Darian (for her braids, which I thought were pretty), Maria (for her stiffness), Brittany (for her "mean girl" aura), Kiara (deemed the worst of the bunch), and Destiny (for her lack of model-esque), with Leila, Victoria, and Laura earning pretty high marks.

Top Model Week One Leaderboard/Call Out Order
1. Leila – 40.4
2. Nastasia – 36.6
3. Brittany – 36.3
4. Laura – 36.0
5. Kristin – 34.7
6. Kiara – 34.3
7. Yvonne – 33.8
8. Allyssa – 32.1
9. Victoria – 31.2
10. Darian – 28.9
11. Maria – 28.1
12. Destiny – 26.9
13. Jessie – 22.4
But wait! Don't cry for Jessie's ass quite yet! The first six girls eliminated from the competition will be competing in each of the upcoming photo shoots, the model with the highest social media score earning another shot at the title and getting to re-enter the real competition.
You wanna be on top…and then on the bottom…and then on top of the bottom…and then on the bottom of the top again?
If you want to talk about tonight's episode of Top Model, you can head over to the TVOvermind America's Next Top Model discussion forum.