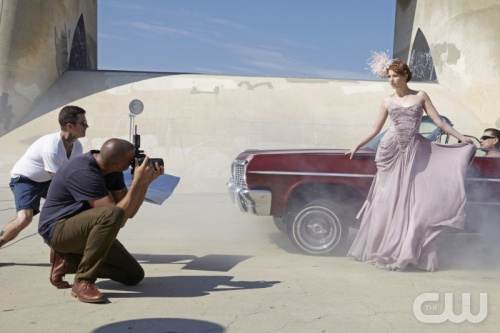 There are three things you can count on in life: death, taxes, and Top Model sticking to its formula. Sure, they've added different cycle themes, changed judges, and traveled all over the world, but in the end, Top Model is Top Model is Top Model and has been since its days at UPN.
Until now.
Upon unveiling its 2012 fall schedule this morning, The CW announced a fleet of changes to its lone successful reality program. A Wednesday mainstay, Top Model will be moving to Friday nights, thanks to plummeting ratings for its British Invasion cycle, incorporating social media into panel, and bringing on two new regular figures to replace the departing "faculty". A lot to digest, right?
All of it just gives me mixed feelings, though. The move to Friday makes sense on a lot of levels; the show hit a major decline in cycle 18 and there's no reality-competition series in the 8:00 hour, which could bring a little perk back to the show and help Nikita in the ratings. Plus, The CW has been on a mission to revamp itself after a pretty disastrous spring, so nights like Wednesday needed that extra shot of adrenaline that programming that Arrow and Supernatural can provide. But, hypothetically, what if the moves hurt both nights? Top Model isn't that compatible with Nikita and has proven to be a survivor against American Idol and The X Factor, so is it worth it to risk arguably your most anticipated show and a strong veteran? The reward might outweigh the risk, the possibility of getting a stronger foothold on Wednesday being very appealing, but it seems like The CW could wind up hurting one of its strongest nights in Friday and sinking two of its stronger scripted fare in the process.
The social media aspect of cycle 19, meanwhile, has me cautiously intrigued. The network mentions that there will be voting during the week on CWTV.com beginning May 24th, fans choosing their favorite photos from the most recent photo shoot and having their voice be heard at panel. While that's not a problem, the amount of influence that fans have is a little too opaque for me; for example, what if a girl just blows away the competition every week online? I'm talking 40-50% of the votes every time, a true fan favorite – would they be more apt to forgive a wonky photo from her, knowing that an elimination would make the fans upset? Too much influence is pandering, too little makes this just lip service, so it'll be a fine line for the show to tread.
I do like the idea of having video/text comments from fans making it on the show during the airing, but that feels like another cut that could be online. Have the regular, untouched version play on TV, but put the "enhanced" version on CWTV.com, perhaps? And how would video be implemented into the show without it taking over and becoming a disturbance? I like Top Model, but Total Request Live: Top Model Edition doesn't sound that appealing.
I'm not familiar with the new judge and creative consultant, so, again, we'll have to wait and see. Male model Rob Evans will be joining the panel as the third judge, sitting in the chair occupied by Nigel since cycle 2. In looking up information on him, I noticed two things: 1) he's cute and 2) he's young. Very young. Younger than me and I'm in my early 20s. Having someone that early into their career and active in the fashion world could be a good thing, as he could impart wisdom on what it's like to start out and whatnot, but I don't know if he has the klout to hang with Kelly and Tyra. Kelly is a ridiculously successful PR maven and Tyra is a former supermodel and current media conglomerate that will have her own theme park by 2020; judging just by credentials, Rob feels like a guest judge with a regular seat. I could be completely wrong and he could be the most eloquent, knowledgeable mentor in Top Model history, but I fear that he hasn't had enough time in the fashion world to properly be able to advise anybody else on having a long-lasting career.
Though no new runway diva coach extraordinaire was named, we do have a new creative consultant in Johnny Wujek, stylist to the likes of Katy Perry and Wonder Girls. I don't know how much experience that he has doing what Mr. Jay did, so the pick has me a little curious. Knowing what looks good on a girl's body or making kooky music videos is one thing, but Top Model has kooky done and done. It wears kooky on its chest proudly, so Johnny'll have to bring a unique perspective and vision to the photo shoots to become a valuable asset to Top Model. Can he do high fashion? How does he get along with clients? Will he have more of a say than Mr. Jay did in the styling of the shoot? I'm keeping an open mind going into cycle 19, so for now, let's wait and see before jumping to (too much) judgment.
Unfortunately, the rumor that Tyra was thinking about hiring bloggers proved to be false, delaying my inevitable rise to the Top Model panel (y'all know it's coming) by at least another cycle. Until then, Top Model might look like a completely different show in the fall and I don't know if that's necessarily a good thing. A change can be great, but none of the moves that Top Model has made (or have been for Top Model) have inspired much in the way of confidence in cycle 19. It could turn out to be the move to reinvigorate the show for another few cycles or it could be the final blow to a once-successful franchise. Either way, I'll be watching. Join me, won't you?
Top Model airs Wednesdays at 9:00 on The CW. You can check out my review of last night's episode here.
Will you be watching Top Model once it moves to Fridays? Are you familiar with the new judge or creative consultant? Is incorporating social media a wise idea?