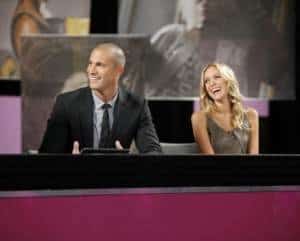 I have some serious mixed emotions about the concept of a group challenge on a reality show like America's Next Top Model. While it works well in stirring up drama and giving a reading on how well you can work with other people, it's hard to fully accept as a true means of eliminating someone. The "random" pairings have a bit too much control in either building up a contest or bringing them all the way down, so it can scream producer interference and predetermination more than anything.
Let me just get this out. I think Isis was robbed in "Kristin Cavallari", the third episode of America's Next Top Model: All-Stars. The entire set up of the episode was to blame, though, due to the weird rule that half the cast would be safe from elimination following the interview challenge with Mario Lopez. I can understand wanting to give the challenges more weight, as they've become more nonsensical and pointless with each passing cycle, and I think that granting immunity early in the game can raise the stakes on what would've normally been a bit of a filler challenge. However, the show painted itself into a corner with giving six girls immunity because, as Tyra said in her Speech of Super Importance, Angelea and Isis didn't have the two worst photos in the bunch. This challenge may need be all about star power and branding, but shouldn't you do your best to get one of the top models (har har), too?
The judges (and various "faculty") didn't help things, though, as they made comments and decisions that were a tad confusing. Mr. Jay chastising Isis for not bringing the energy she had dancing to the shoot was maddening, as we saw her doing the same leg bends and curls that the other girls were doing in the very shoot footage shown of her time with Camille. And you know that if she had approached something with a couture edge backing it up and moving her body like that, Mr. Jay would have gotten onto her for not being "model-esque". Didn't Camille get in trouble for trying to dance in her photo? Granted, she didn't do that great of a job, but still, it felt very arbitrary to call Isis out for not doing something and then calling Camille out for doing what Isis didn't. Nigel was just as useless and unclear with his comments at the Extra challenge, but one comment he made did stick with me.
"I want to see your character."
When talking to Angelea about learning how to bring in a little personality while maintaining your professionalism, he mentioned that she needed to show her character. You can interpret that as wanting to see who she is and what she's all about, but the first thing my mind went to was "be the stereotypical loud hood chick that you were on the first season or else we get all confused". Of course, I don't know what Nigel's intentions were, but given how disconnected judges are from the show, it's hard to know exactly what any of them are thinking anymore.
Which, let's give props to 716 for actually standing up for herself at panel. I thought she was going to blow a gasket or two and be on the first thing smoking back to the bank that she works at, but Angelea held it together and seemed to want/need the constructive critique going forward.
Even the dramatic photo shoot wasn't enough to save "Kristin Cavallari", though it was far and away the best episode of the season. The fact that they went much more couture as compared to the first two shoots was a major plus and the styling, while strange off camera, came alive in the still frames that each team had. It just felt like another gimmick for the show to lean on as opposed to showing off the modeling talent of the cast. (See: the rollerskating commercial challenge from two cycles ago, whose premise was "let's watch pretty girls fall down hard".) The end result may have ultimately been worth the messy pairings (why not have the unsafe girls all pose to the death together?), but I hope the show simply uses this as a stepping stone to more fashion-y shoots.
Of all the frustrating things about America's Next Top Model, I think the fact that it still doesn't know what it wants to be or the type of winner that it wants gets to me the most, which is evident in "Kristin Cavallari". If you're going to be de-emphasizing the modeling portion of your criteria, why is it still given the most screen time and weight when it comes to deciding who goes home? It has to be a part of it, because we don't want a busted girl muddling up the page of Italian Vogue, but if this season is really all about star power, the structure of the episodes so far is a bit lacking. Why not give the media challenge/training that much more time? We know these girls, to a point, but giving more of a spotlight to their personalities can only help them when the show is over. Though "Kristin Cavallari" was a step up from the disaster that was "Ashlee Simpson", America's Next Top Model: All-Stars is still lacking in shine.
Thoughts, Quotes, & Observations:
"I know how to conduct myself. I work at a bank."
"…and her stride is gonna have to be real big, 'cause I'm coming after her."
"You know what a booty tooch is? It's when you tooch your booty."
"Do you ever have your photo taken with your legs together?"
"I have word vomit just like everybody else."
The lack of Miss J in this cycle hurts my heart. These girls need to be able to walk a runway, dammit.
Tyra's E! special aired Wednesday night at 10:00. It'll likely repeat several times, so if you want a refresher course in the Grand Dame of Top Model, check it out.
For those still not in the know, this cycle will be Andre's last. I said earlier that I wasn't the biggest fan of his judging style, but I forgot to mention that I enjoy how many references he can bring.
Genuinely impressed with (first call out) Allison this week. She was intelligent and well-spoken in her interview and showed another side of herself in the challenge.
There's way too many flashes to their past cycles. If you're still watching Top Model after 17 cycles, you've likely seen every damn one of 'em (100 times), so you remember these girls. Plus, aren't these girls all-stars? Their exploits should be memorable.
Favorite shade of the week: Mr. Jay's swimsuit comment to Shannon and Bre's comment to Kristin about trying to maintain your fame while not jumping from reality show to reality show.
Was the whole "you're always going to have haters" thing another bit of foreshadowing that Alexandria will win this?
Kristin Cavallari was a fairly decent guest judge (there've been worse), but her appearance at the beginning of the episode was just a time eater. Unless she was there fielding questions and telling stories from her career for hours on end, it felt like a name for the show to drop in promos and that's about it.
Next week, the girls audition for CSI: Ted Danson and Kayla gets crazy sick.