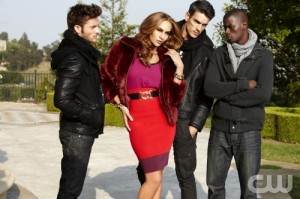 As much as I've criticized America's Next Top Model: All-Stars this season for being a little more wackadoo than usual, I have to admit that "Anthony Zuiker" managed to keep the sense of fun that that best episodes of Top Model have while bringing some of the legitimacy that had been missing thus far in cycle 17.
I love a crazy photo shoot or funny challenge as much as the next guy, but this cycle had seemed to put on its absurd weave and forget about its high fashion sunglasses, in that the first three episodes were heavy on the silly and stupid and very light on anything resembling proper training for these girls. However, "Anthony Zuiker" brought both with a little bit of old school medical drama and I actually enjoyed it quite a bit.
The acting challenge was the weakest part for me, in that we've pretty much seen the exact same challenge before. (In cycle three, where the girls were performing with Taye Diggs and had difficult medical jargon to memorize.) It's not an inherently poor challenge, but it was a bit of a retread that I recognized immediately and ended up being disappointed in. Not to mention the fact that this is another challenge that almost demeans the girls, as it felt like "teehee, let's have a bunch of stupid models try to remember big words" instead of something that lived up to the legitimacy that Zuiker brought. The only thing that saved it was what was up for grabs; the winner of the acting challenge would get a guest appearance on a fall 2011 episode of CSI, which is one of the biggest (and most realistic) "gets" to date for the show. Top Model hasn't really embraced the fact that a lot of its most famous alumni (Yaya Da Costa, Eva Marcille, Adrienne Curry) have crossed over into the public's consciousness through acting/television until now and it'd be wise to continue this trend.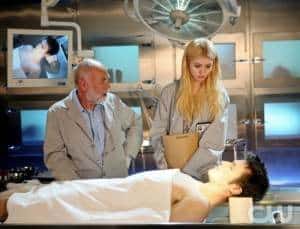 Camille even said in one of her talking heads that being a working model doesn't pay all that much anymore, so girls walking in to the business in 2011 need to be much better equipped to handle multiple roles in the industry. I think it'd be nifty if one of the next cycles had the girls learning about either the technical side (manufacturing, tailoring) or the behind-the-scenes side (PR, managing) to get a better grasp on the industry and to prepare themselves to be a "jill of all trades".
I liked that the show brought in one of the clients (Lisa Gavales from Express) early on in the cycle because it felt like a wake-up call that both viewers and the girls needed. At the end of this thing, somebody's going to have to get out there and represent the show in ad campaigns and despite the fact that personality plays a major role this cycle, if you can't model, you shouldn't be making it that far. Of course, the show had to add another hoop for the girls to jump over by assigning them one of four random roles (socialite, girlfriend, cool chick, flirt), which was confusing. Isn't this cycle supposed to be about branding and bringing their own "thing" with them in their career? What if their "brand" doesn't fit into one of the four roles that were given?
The shoot itself was actually quite good and surprisingly professional in styling and overall look. There were no hot dogs or crazy costumes here, thankfully; it was just (mostly) pretty clothes from Express and three male models that tried to help the girls best emulate their word. I don't know why Top Model has been so resistant to fully moving toward realistic, well produced shoots because it was nice to see the girls in a type of photo shoot they would encounter in the real world and for the most part, they all took to it like ducks to water. Per usual, the bottom two of Lisa and Camille was telegraphed from the opening couple of minutes, but I think that Alexandria needed to have more consideration for the Speech of Impending Doom. Her acting performance was mumbly and not natural, while her photo was stiff and very blank. She's performed okay in the previous three episodes, but I still don't feel like she's on the same level as everyone else.
Honestly, "Anthony Zuiker" was kind of fun. Yes, the challenge was a repeat and the elimination was again suspect, but the shoot was pretty entertaining, the challenge prize was quite cool, and there was even an old school medical emergency in Kayla's cardiac arrhythmia. Flashes of cycle 4, that brought. Here's hoping that the opening few episodes were an aberration and the rest of cycle 17 moves toward the type of realistic-yet-compelling challenges and shoots that would, y'know, make sense given the girl's experience level.
Oh, who am I kidding…
Thoughts, Quotes, & Observations:
"God forbid I find his e-mail address."
"Half the words are longer than my face."
"I got the most talent up in this."
"When she doesn't look at the camera, she's great."
Kudos to Lisa for not drinking. She's still extra messy (and one-dimensional) with way too many excuses, but stay strong, girl.
I was surprised that panel didn't mention Kayla's medical emergency. I think it may come up in the future, the closer she gets to actually taking the title.
Speaking of things that weren't brought up, why didn't Lisa's cursing on camera get a mention or two? They've made a big deal in the past about how, if you flub up a line, to stop, breathe, and start again, because there could be something in that take for the director to use.
What was with Mr. Jay's wardrobe this episode, especially the scarf during the acting challenge? Tragic.
Does anybody else think the Tyra Mails are awkwardly worded? Telling the girls they're still in the running toward becoming "America's Next Top Model All-Star"?
Tyra chiding Camille for telling them they picked a shot where she was falling was annoying. A client would pick the best shot of their model and I have a feeling Camille had better in the tank than what we were shown.
I really enjoyed Anthony Zuiker as a guest judge. He was smart and opinionated without trying to be the center of attention.