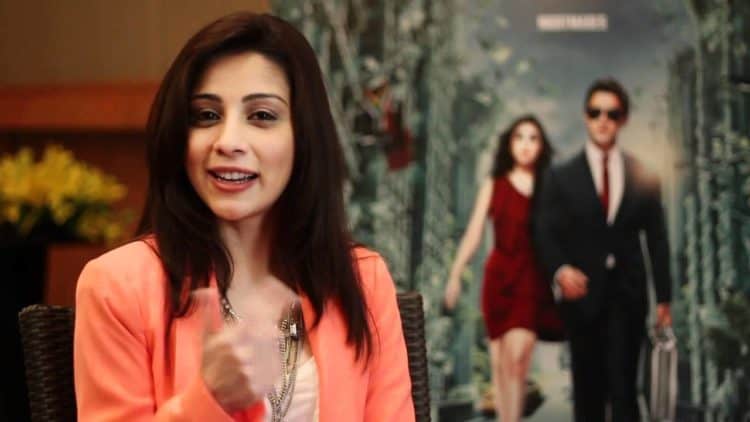 There's always talent on the rise or talent waiting to come from a venue or direction you didn't expect. Amrita Puri has been around for a while but as has been seen with some people it might take the right moment or the small push they need that will elevate them to the status they've been look for throughout their career. Given the fact that she's trending at the time it might be that she's finally found her moment and is looking to capitalize on it in a big way. After all throughout the years it's been well established that those with a voice and a new energy are those who will eventually stand up and be counted as the next voice of show business. Whether or not they'll be able to stand out as they need to or will come in and fade off quickly is hard to divine, but for the moment it would seem that Amrita is here to stay.
Here are a few things about Amrita you might have known.
10. She was a copywriter for a little while.
There's not a lot of notoriety in being a copywriter but it's not a bad job if you get into it since there is a lot of opportunity to move forward considering that many people tend to need this service at one time or another.
9. Amrita did write for theater to start with.
This seems like an interesting writing opportunity since it would offer a lot of chance to hone one's skills and give them the ability to elevate themselves even further along the writing spectrum given that writing for theater seems like it would have to be precise and definitely on point.
8. She's been nominated for several awards at this point.
She hasn't won that many but she's definitely gained the notice of those that need to be impressed when it comes to handing out accolades, which is important to advancing in one's field at times and can be a mark of how far they've come in their career.
7. Amrita is in her 30s at this time.
She's not exactly young enough to really be classified as a new up and comer but she does have the experience she needs and is still relatively young enough to be counted as someone that has a good deal of time left to her in the business. If nothing else it means that she is established and has nowhere to go but up at this point in her life.
6. She is an educated woman.
When it comes show business a lot of people still value an education, but some seem to eschew this in favor of starting their career. Amrita and many others however have seen the value of completing their education and then moving forward as the options this gives a person can sometimes be plentiful given that they have the educational resources and know-how to make their career work on many different levels.
5. Amrita does like to travel.
This is definitely easier when you have a budding to successful career and are able to finance the trips you want to take and reach the locations that you would like to see on occasion. Traveling is the privilege that does come from managing to find and maintain a successful career and in that regard a lot of people in show business have definitely earned this ability.
4. She was born into a well to do family.
Let's be honest, it' a little easier to create a successful life when you have a strong base to work from. There's nothing else to say other than the fact that she did have a very comfortable life and as a result she likely had a little more ease in doing what she wanted and gaining access to the best education she could get. That being said though she obviously didn't waste the opportunities she was given, as she's been seen to fully embrace the chance to move ahead and take advantage of the work she's done.
3. Her passion for acting has been with her since childhood.
Some people do in fact know what they want to do when they're children and tend to follow through with it. For some of us the idea of being whatever we want fades with time as we come to realize the compromises we have to make in order to simply exist. But for others the push to get to where they want to be is never too great since they want it that bad.
2. She has her own fashion label.
This seems to be one of the many things that is common among many that have gone this far with their career, as it almost seems like an expectation of some people that make it this far.
1. Amrita started off starring in commercials.
Everyone's got to get their start somewhere, and for those that want to act, modeling, commercials, and few other options are often the way to go.
She's managed to get where she wants to be on her own pluck, that's kind of impressive.