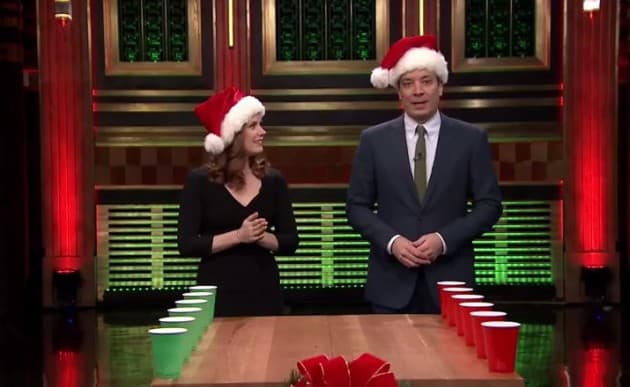 There are two main reasons why I'm glad I tuned into last night's episode of The Tonight Show Starring Jimmy Fallon. First, I got to see one of my favorite actresses, Academy Award nominee Amy Adams (can we just give her an Oscar already? She really deserves one). And second, I got to see Amy Adams face off against Jimmy Fallon in a holiday-themed version of flip cup (a game I'm very familiar with, since I'm not too far removed from college), and it was incredibly entertaining not because the game was competitive but because of just how bad Adams was at playing it.
As you can see for yourself in the video below, Adams and Fallon, who were both donning Santa hats, each had six cups of beer (hers were green; his were red, because, you know, Christmas colors) sitting in front of them, and their job was to chug the beer and then flip the cup over–hence, the name of the game: flip cup. The only issue for Adams, who was on The Tonight Show to promote her hosting of Saturday Night Live this weekend and her new film Big Eyes, which also stars Christoph Waltz and is directed by Tim Burton (it hits theaters on Christmas Day), was that she couldn't get the first cup to flip over correctly.
Even though it wasn't as quirky or elaborate as some of the other games on The Tonight Show, like Box of Lies or Lip Sync Battle, this game of flip cup is definitely something you'll want to check out. Watch the full video of Adams and Fallon playing against each other below.
Photo via Youtube