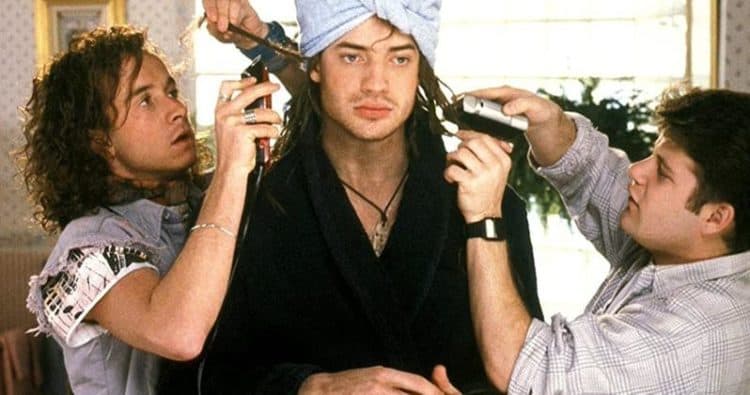 Well, the biggest reason that Encino Man 2 could work is that the main stars, Brendan Fraser, Pauley Shore, and Sean Astin are all ready and willing to get moving on the project, but beyond that, it's kind of hard to come up with other reasons why it would work. It's a question of how many others the movie could bring back since getting Sandra Hess back would be nice, and it would be great to get Megan Ward back as well. If you're not remembering which parts they played, Sandra was Link's Cave Nug, or girlfriend, that showed up at the end of the movie, and Ward played the part of Robyn, the young woman that Dave, played by Astin, was so obsessed with. After all this time it's hard to say whether the main actors would still be in the same zip code or if the story would be written to show that they'd all moved on, but the fact that Link and his female companion didn't really know much about the world they'd found themselves in would make that nearly impossible at first. Of course, if Dave and Stoney, played by Shore, were written in as having worked with the pair for long enough it's possible that they would have moved on and grown into the world around them, or possibly found a nice place in the country where they could continue their hunter/gatherer ways that had worked for them at the beginning of the movie, with the modern niceties adding in a nice touch to their way of living. It's not a hopeless story, but it's a tough one to think about at this moment.
After so long though, the question is 'why?' since while Shore has obviously been waiting for this moment it feels like it's coming at a time when he realizes that his career isn't ending but he's getting older and he doesn't have the kind of reputation he might have hoped for when he was younger. When Shore was on a role he was making such movies as Son-In-Law, In the Army Now, Bio-Dome, and several others, but after that one act that he held onto for so long started getting old and his days as a veejay at MTV were over and done with he didn't have much left. In fact, movies like Jury Duty and the more recent Guest House are funny and all, but they've been a far cry from the stuff he's done in the past, and for a number of reasons.
Shore was more of a 90s talent and once the 90s were done he kind of struggled to move on, and he's still struggling since Guest House was funny and outrageous but it was a return to character for him and the sad part is that this feels like all he'll ever do. If he can make it work then great, but so far it's feeling like he was stuck in the 90s and woke up in the present day after a long and troubled nap. Sean Astin has been making his presence felt over the years and he's done great, as has Brendan Fraser for the most part since The Mummy movies were going great up until the third one. But while he's no longer the teen heartthrob he used to be Brendan has certainly matured and taken on other roles as the years have passed by and it's been seen that he's been able to bring back the dramatic side of his acting talent in a very serious way. A lot of people like Shore and it's not hard to see why, but as he's getting older the whole stoner act doesn't work as much since it's become tiresome. If he could work past that and create a slightly different persona while keeping what made him popular for Encino Man 2 it feels as though it could work, and Astin and Fraser could help out in a big way too. Getting the bulk of the cast back feels as though it might be a struggle, but there are always ways to make these things work, especially since the actors were a lot younger when the movie was made.
This means that they could find reasonable replacements if Hess and Ward don't feel like coming back, and quite a few of the cast members could be replaced if it came down to it since the current generation might not know enough about the original movie to really be bothered. Even bringing it back to Disney+ wouldn't be a huge issue since Encino Man was a pretty comfy family movie that didn't go get too crazy. In fact, it was pretty tame for the 90s but somehow still had that cool stoner vibe that a lot of people liked thanks to Shore. It could work, but it'd take some doing.