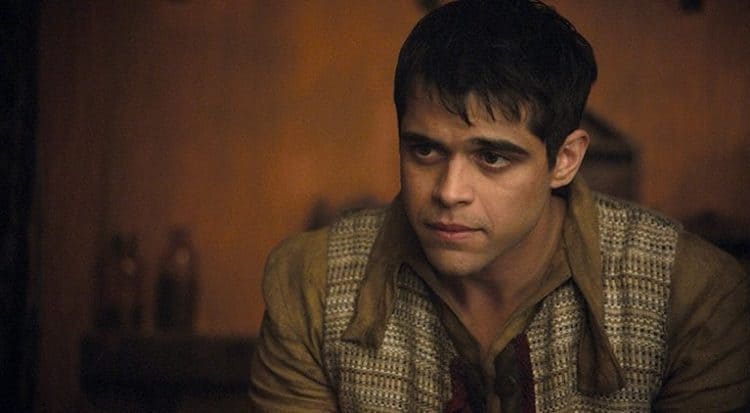 To some people Anand Desai-Barochia may seem like an overnight success, but the truth is he has been putting in work for over a decade and his time has finally come. Anand is best-known for his role as Janzo in the popular TV series, The Outpost. The role has been his first opportunity to play a main character and his performance hasn't disappointed. His ability to take on the complexity of his character and translate it into something entertaining shows the truth depths of his talent. Even though his resume may not be as long as some of his colleagues, the work he has done speaks for itself. Continue reading for 10 things you didn't know about Anand Desai-Barochia.
1. Theater Is His First Love
Like lots of other talented actors, Anand got his start on the stage. Although he is thankful for the on screen opportunities he's gotten, his heart will always be in theater. He told Pop Culturalist, "Theatre will always be my first love. There is nothing like the stage and a live audience."
2. He Originally Planned On Auditioning For The Role Of Garret In The Outpost
Sometimes in life things don't always go as planned, and that's not necessarily a bad thing. Intially, Anand was going to audition for the role as Garret, but he fell in love with Janzo and decided that the character would be a better fit for him. Garret's role ultimately went to Jake Stormoen.
3.  He Enjoys Playing The Piano
Anand has always loved music and the piano has always had an extra special place in his heart. During an interview with Lapalme Magazine he said, "I never maintained the discipline of playing the instrument daily as an adult and it's something that I truly want to pick up again. I'd love to play to a professional standard."
4. He's Collaborated With Bumble
Being one of the stars of a popular show has allowed Anand to have some very cool experiences, one of which was working with Priyanka Chopra on a collaboration with the popular dating app Bumble. Anand and Priyanka are part of a marketing campaign called Equal Not Loose which aims to work against the stereotype that women who make the first move are promiscuous.
5. He Loves HGTV
Anand has always had an eye for beautiful things, and that includes home design and decor. While talking to Pop Cultuarlist, he shared that HGTV is his favorite network. He didn't go into detail about which shows are his favorite, but I think it's safe to say that he loves most of them.
6. He Loves Traveling
Anand has always been a very spontaneous person which means it's nothing for him to pack a back, grab his passport, and go on adventure. He has visited lots of different countries over the years including Uruguay and France. Anand is also passionate about languages and would love to be able to speak with native proficiency during his travels.
7. He's A Big Art Fan
Things involving home design aren't the only beautiful things that Anand loves to admire. He's also a big fan of contemporary art and loves looking at pieces whenever he gets the chance. He's also a big fan of the fan art that Outpost viewers have created for him.
8. He's An Advocate Against Bullying
Being on The Outpost has allowed Anand to build an impressive social media following and he has never been afraid to use his platform to stand up for the things he believes in. He strongly opposes bullying and is an ally to the LGBT community. He has also spoken out in favor of the Black Lives Matter movement and the fight to end racism.
9. He Has A Few Things In Common With Janzo
Janzo is a very interesting character, and in a lot of ways he's nothing like Anand. However, there are a few things the two have in common. Anand told Lapalme Magazine that he can relate to Janzo's sense of humor, his insecurities, his loyal nature, and slightly awkward yet charming disposition.
10. He Used To Prefer Film Over TV
On top of his TV work, Anand has also appeared in a few films. He told Open the Trunk that prior to his work on The Outpost, he was the type of actor who preferred film over TV roles because he felt like films gave him the opportunity to see his character all the way through. Now that The Outpost is in its third season, he is enjoying the fact that he is getting the chance to see Janzo grow.