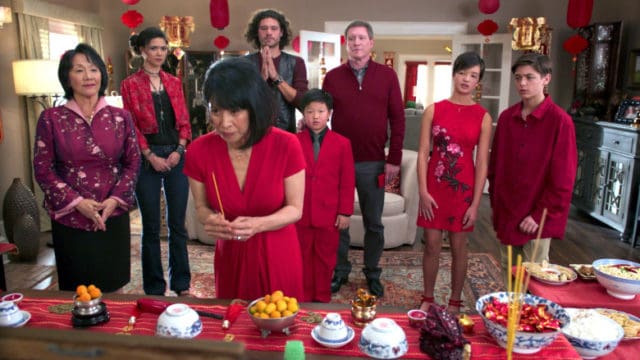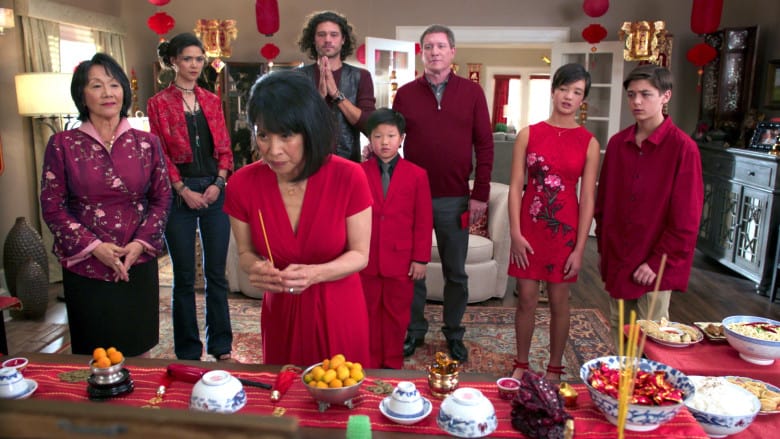 Andi Mack is breaking firsts left, right, and center for Disney. From teen pregnancy to the first coming out storyline, the show is doing its best to be as diverse and authentic as possible. Andi is the network's first Asian lead, so it makes sense to celebrate the culture. There is no better example of that than celebrating another milestone: Chinese New Year. This milestone was incredibly well thought out. Not only did it have all of the authenticity of the holiday, it was well-meshed with the drama of family togetherness. No family reunion is without its bumps, and that's what ties everything together.
The traditions of Chinese New Year were really well thought out, especially since they were covered from the perspectives of three different generations. CeCe hilariously balanced her role as the hovering matriarch with the rivalry of "who can outdo each other best at Chinese New Year" with her sister. Every culture has that one judgmental relative you have no choice but to see once a year. That is universal. Andi tries to ease Jonah into the traditions of the holiday, but forgets to tell him that you are not allowed to eat the offerings to the ancestors. It's an honest mistake, but it's one of those things that you just know when you grow up with the traditions. These are things Bex's dad had to learn when he married into the family. He's an old pro now, offering empathy to Bowie and Jonah.
Bex is in a completely different situation. She is still decades away from taking over the running of the holiday herself. Ideally, in situations like this, it would be great for Bex to marry someone who understands and respects the customs of her culture. Here again, Bowie proves why he is a good match for Bex. Not only is he Bex's first love and Andi's father, he has finally won over CeCe with his cooking and botany skills. He's the son-in-law CeCe has always dreamed of having, which is why she shoves him into her judgy sister's face. However, the picture doesn't always feel as good as it looks, which is an overarching theme on Andi Mack this season. Bex does not love Bowie the way a woman who wants to marry a man should. That's a tough thing for Andi and CeCe to reconcile with. The reality of that breaks Bowie's heart. However, it does go with what the show is trying to accomplish this year.
Often times a show for tweens and teens shows the idyllic picture. That is changing fast. The family portrait has become more diverse, so it is only fair that is reflected onscreen. That includes children discovering their LGBT identities, parents of divorce or of single parents, and celebrating cultures that have previously only been given a platform once a year. I sound like a broken record at this point, but the further Andi Mack gets into Season 2, the more impressed and inspired we'll probably be.
Andi Mack airs Fridays on Disney Channel.
Andi Mack Season 2 Episode 2 Review: "Chinese New Year"
Summary
Andi Mack celebrates Chinese New Year with the right amount of traditions and family drama.