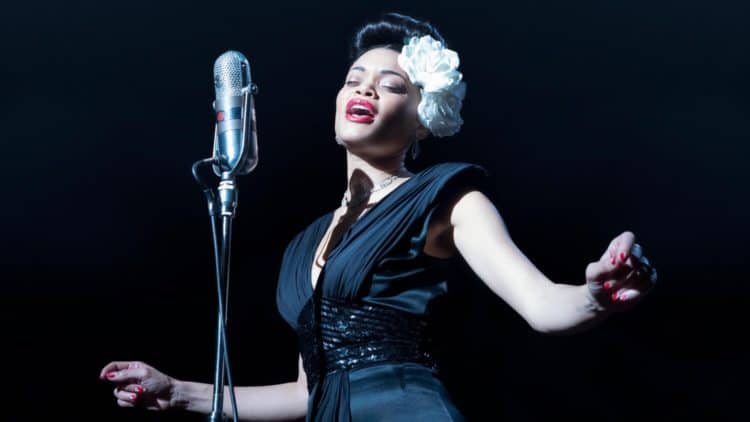 Andra Day first gained wide spread recognition in 2015 with the release of her single "Rise Up". The song became a beautiful anthem for anyone who was looking to overcome a difficult situation. Not only was the song itself a huge hit, but people all over the world fell in love with Andra's voice. Although she hasn't released album since her debut project, Cheers to the Fall, in 2015, Andra has been working. Her hard work has landed her the opportunity to play legendary singer Billie Holiday in the upcoming film The United States vs. Billie Holiday. The highly anticipated project is slated to be one of the biggest releases of 2021 and Andra's fans couldn't be any more excited. Keep reading for 10 things you didn't know about Andra Day.
1. She's A Washington Native
Some people will be surprised to know that Andra was born in Washington, however, she lived there for such a short time that she probably doesn't consider it her home. When she was just 3-years-old, she and her family relocated to California where she has lived since.
2. Her Name Isn't Really Andra Day
In the entertainment industry it's extremely common for people to perform under stage names. Still though, most people probably assume that Andra Day performs under her real name. That isn't the case, however. Her name is actually Cassandra Batie with Andra being a shortened form of Cassandra.
3. She Was A Dancer Growing Up
Andra has been around music for her entire life. When she was around 5-years-old she started taking dance lessons although we couldn't find any information on the specific genre she studied. She continued to dance until she was in her 20s but eventually decided to focus her attention on singing.
4. Playing Billie Holiday Isn't Her First Movie Role
While it's true that The United States vs. Billie Holiday is Andra's first live action movie role, it isn't the first time she's been in a movie. She was the voice of Sweet Tea in the 2017 movie, Cars 3. Even though The United States vs. Billie Holiday hasn't been released yet, there are a lot of people who are predicting it won't be Andra's last time on the big screen.
5. She Wrote "Rise Up" During A Difficult Time In Her Life
"Rise Up" is a song that has uplifted countless people, and Andra wrote it at a time when she was needing some uplifting herself. When asked what inspired her to write the song Andra told Time, "My music and my personal life were both stagnating at the time, and a friend of mine had been diagnosed with cancer. "Rise Up" started as a sort of prayer—I thought about what I needed to hear to be able to get back on my feet. Most of the song came streaming out in the first freestyle recording. Honestly, there are lines in there I'd normally find cliché. But sometimes a good cliché is exactly what you need in a moment of hopelessness."
6. Stevie Wonder Is A Fan Of Hers
Stevie Wonder is one of the most influential artists of his generation, and it goes without saying that Andra is a fan. What lots of people don't know is that Andra was actually discovered by Stevie Wonder's now ex-wife, Kai Millard Morris. After Stevie heard Andra's voice, he became a fan of the talented songstress.
7. She Enjoys Helping Others
Andra has built a large platform during her time in the industry, and she has made it a point to use it to help other people along the way. She is passionate about giving back to the community and she often inspires other people to do the same. She has worked with several charitable organizations including Keep Memory Alive and Feeding America.
8. She Was Once A Children's Party Performer
Andra held a lot of odd jobs before she was able to work as an artist full-time. During an interview with the San Diego Union Tribune Andra said, " I worked at Party Animals 4 Kids, and loved it. I'd show up at kid's parties all over the city dressed as Dora the Explorer, Elmo, Minnie Mouse — my Minnie Mouse voice was really good! I'm definitely going to write about that on my next album."
9. Michelle Obama Asked Her To Perform At The White House
Performing at the White House is a very cool accomplishment, and it's one that Andra can add to her list. At the height of Rise Up's popularity, Michelle Obama became a fan of the song. She loved it so much that she invited Andra to perform it at the White House.
10. She's Passionate About Social Justice
"Rise Up" became the unofficial anthem for the Black Lives Matter Movement, and Andra has always enjoyed knowing that her song has been such an important part of such an important movement. Social justice issues are something that Andra has always been passionate about and she's used her voice to raise awareness to several causes.