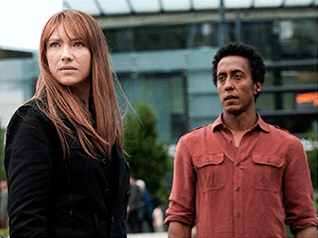 When Fringe's third season premiere, "Olivia," airs tomorrow night, you'll be watching the episode with one less worry than I did. During the entire episode, I was thinking to myself: "They better bring this character back."
The character I'm talking about is Andre Royo's taxi driver from Over There, Henry. The character made his debut in the episode, and I have to tell you, he was brilliant. Royo's acting is well known by television lovers due to his starring role on HBO's The Wire, and getting a chance to see him again in another show I loved was absolutely fantastic. He played the part brilliantly, and after his last scene in the episode, I was desperately hoping that he would return in some kind of capacity. I have to say, thank god it was left open ended.
Henry will be making a return appearance later in season three, Entertainment Weekly is reporting, and after watching "Olivia," I have to say that he'll be playing a fairly important role in the events regarding our Olivia Dunham, who was trapped in the alternate universe at the end of season two. The two have a great interaction in the premiere, and I can't wait to see how this taxi driver (described in the casting call as "soulful") makes his return later in the season.
There! I've said too much already. If you want to learn more about Henry, you're going to have to wait until tomorrow night.
Fringe's third season premieres tomorrow night (Thursday, September 23) with the episode "Olivia."