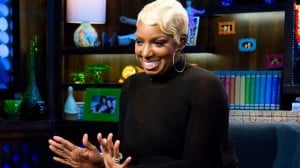 Just when you thought Bravo was done with The Real Housewives of Atlanta for the time being, Andy Cohen managed to squeeze one last morsel out of his ratings blockbuster with a sit down with "the star" of the show, NeNe Leakes.
Unlike Cohen's last 'One-on-One' debacle with Jill Zarin, the former cast member of The Real Housewives of New York City, the Watch What Happens Live! host didn't have to worry about any hidden tape recorders being on set or pissed off former housewives demanding a definitive answer about why they were let go from the show (as if they couldn't figure that "conundrum" out themselves. Instead, Andy and NeNe simply had a decent conversation among old friends who were both marveling at just how far NeNe has come since the beginning days on the show. Leaving her usual attitude at the door, NeNe exemplified just how far she's grown in terms of being the center of drama since The Real Housewives of Atlanta premiered five years ago. The New Normal star answered all of Cohen's expertly executed line of questions with a flair of confidence and fearlessness, only being truly embarrassed by the clips from her Real Housewives of Atlanta audition tape that featured former cast mates Sheree Whitfield and Kim Zolciak-Biermann. In short, it was a side of NeNe that even her detractors can't knock, a side that even I didn't think I would see five years go myself, and I actually love the self-proclaimed top diva of Atlanta.
As the title of this article states, a lot of "T" was spilled between Cohen and NeNe, some we already knew, or could deduce with the process of context clues, while the rest of the discussion had me grinning tighter and brighter than the Cheshire cat. Although there were some instances where I had to hold up my "FOUL!" card for some of NeNe's comments about certain other Housewives from other cities, overall the one-hour event proved to further show that NeNe Leakes had arrived and the spotlight is most definitely on her.
Here are a few tidbits from last night the piqued my interest:
1) When asked how The Real Housewives of Atlanta phenomenon began, NeNe revealed (what most people already knew) that the show was originally going to be called The Ladies of Atlanta and that she was the first to be contacted. It was after her audition that the producers asked her if she knew about any other ladies and this is where DeShawn Snow and Sheree Whitfield came into play.
Later, NeNe listed suggesting Sheree for the cast as one of the things she regretted the most. And I lived.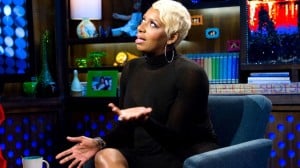 2) Speaking of Sheree, NeNe also mentioned just how evil and manipulative Sheree really is. If this interview had of taken place a few years earlier, most NeNe detractors would've called her a flat-out hater. But it's 2013 and if you're not saying "Sheree who?" by now, then you're probably seen how the former She By Sheree designer is proving her former bestie right all across the board. Plus, it was interesting to know how and where the initial spat between Sheree and NeNe began, which was during a RHOA meeting right before the show taped their first event.
3) NeNe confirmed that she and former bestie/nemesis Kim Zolciak-Biermann are working on rebuilding their friendship, but admitted to being cautious this time around. Why jump back into something when there's a chance you might get hurt again? With that said, NeNe did remark on how much fun Kim can be and that she was really feeling some type of way when the Don't Be Tardy star left The Real Housewives of Atlanta, stating that they came into this journey together and felt that they had to represent it to the end.
4) Staying on the topic of veteran Housewives, NeNe is all for the original Housewives from whichever city, because of a shared bond of sorts of being the first to represent their respective cities. It was here where NeNe felt that she is The Real Housewives of Atlanta, as Teresa Giudice (as much as some people hate her guts) is synonymous to The Real Housewives of New Jersey and Ramona Singer to The Real Housewives of New York City. She gave me life by saying how although she switched sides in the drama between Teresa and Teresa's sister-in-law/RHONJ castmate Melissa Gorga, she still feels that Melissa came on Teresa's show, thereby a sort of pecking order should be in effect. NeNe also echoed my sentiment of the show becoming very messy and dark with all the familial drama between Teresa and her brother Joe Gorga. Amen, NeNe.
5) It was very interesting to see NeNe give her semi-nemesis (if you even want to call it that) Phaedra Parks a lot of credit with her one-hitter quitters against new RHOA breakout star Kendra "Cuckoo For Cocoa Puffs" Moore. Leakes went as far as saying Phaedra won the verbal battle during the reunion despite Kendra's "genius" idea to bring a fan as a prop on the set.
6) Finally, I have to say that one incident I really disagreed with NeNe on was her critique of The Real Housewives of Beverly Hills's Brandi Glanville, who the RHOA star declared a "train wreck" after an incident at this year's Bravo's upfronts in New York. Foul on the field, Ms. Leakes! But NeNe did say that she gets along better with sober Brandi than she does Drunk and Inebriated Brandi. There goes my hopes of two of my favorite Housewives ever doing a single together…
So what did you think about the One-on-One with NeNe Leakes? Who should Andy Cohen put in the hot seat next?
Photo Credit: Bravo