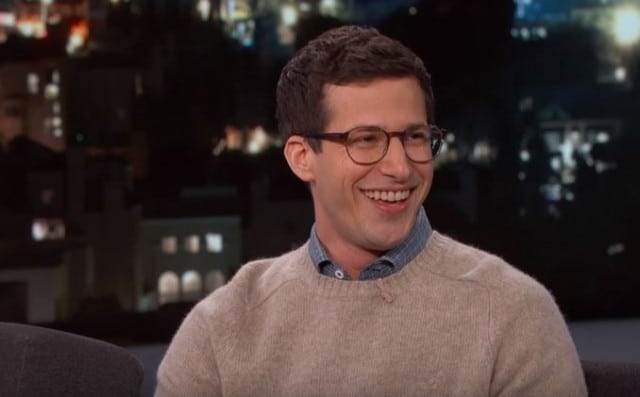 Andy Samberg revealed some major news about The Lonely Island film, which hits theaters this summer, last night on Jimmy Kimmel Live. Not only did the Brooklyn Nine-Nine star finally give out the title of the movie, which is being produced by Judd Apatow (The 40-Year-Old Virgin, Knocked Up), but he also unveiled its first poster as well. However, before that happened, there was some funny back and forth between Samberg and Kimmel about the name of the film
"The title is unnanounced, but I think we were going to announce it here," Samberg said to Kimmel.
"The title is Unannounced, or the title has not yet been announced?" Kimmel asked him.
"That would be the worst title," Samberg said, laughing. "Hey did you see Unannounced?"
After their joking conversation, the two of them then finally revealed the Lonely Island movie's first poster, shows that the name of the film will be Popstar: Never Stop Never Stopping and features Samberg standing in the middle of it a Bieber-like pose. Samberg also stated that his character's name will be Conner4Real, which was the movie's rumored title for a longtime.
"That's quite the scoop we got here," Kimmel said, laughing.
"We pitched other names to the studio," he told him. "Like I wanted to pitch them Gremlins 3, and they said no. I was like, 'Alright. Popstar: Never Stop Never Stopping.'"
Popstar: Never Stop Never Stopping hits theaters on June 3. Check out Andy Samberg's announcement and the first poster for the film in the video below:
[Photo via YouTube]