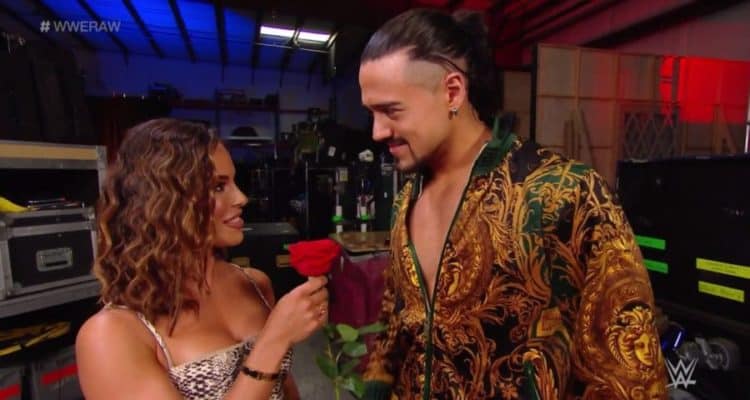 He's a WWE superstar who just got married to the love of his life, and everyone wants to know more about them. His name is Angel Garza, and he's been on the top of his game for some time now. He just married the lovely Zaide Lozano, and everyone is so excited that they finally tied the knot after they got engaged on live television back in December 2019. So, now that he is a newlywed, off the market completely, and happily married to the love of his life, let us get to know this man a bit more.
1. He's Still Young
As in very young, if you want to know the truth. He was born in the early 90s, which does put him in his late 20s…but it still seems so young when you see someone with a birthdate in the 90s. His official date of birth is September 23, 1992.
2. He's From Mexico
He was born and raised in Monterrey, which is in Neuvo Leon, which is in Mexico. His entire family is from this area, and they are a big, close, and very successful family. He's close to everyone who is related to him, and trust us when we say that he does have a very large family.
3. He's Got a Famous Grandfather
His grandfather is pro wrestler El Ninja, or Mike Segura, if you prefer his real name. And, his grandfather is not the only other pro athlete in the family. His great-uncle was a pro wrestler (he is actually named after this one), his three uncles are also wrestlers, his cousins are pro wrestlers, and we have a feeling that if he ever has kids of his own, they might go into the family business, too.
4. He's A Public Kind of Guy
Remember when he asked his now-wife to marry him? Most people choose to pick something a little more private and intimate for a moment like that, but not this guy. He chose to ask his girlfriend to be his wife on live television when they were in the middle of the ring following his win against someone else. Thank goodness she said yes, right?
5. His Wife is A Sports Fan
We don't know if she was his fan first and then met him or if she became his fan when they met – we don't even know how they met – but this is a couple who are fans of one another. She loves sports, and that's probably a good thing considering she is a sports' journalist, right?
6. He's Active
Even if he didn't want to be, he has to be. He is married to a woman who loves to hike and play golf and jump off bridges attached to a bungee. He has to love the active lifestyle if he wants to spend any time with his lovely new wife, if you want the truth.
7. His Character is a Ladies Man
Every wrestler has a character that he or she has to play, and Angel Garza's is a ladies man. He recently brought his character to life when a former bachelorette contestant was on the show. Her name is Demi Burnett, and he gifted her a rose before someone fake told her she had to get out.
8. His Wife is a Beauty Queen
In her life, she's spent a little time doing a little bit of everything. One thing she did was spend some time in pageants. We don't know much about them, but we know she did them at some point in between graduation college with two degrees and then becoming a meteorologist prior to becoming a sports journalist. She's an accomplished woman, and he should be quite proud of all she has to bring to the table.
10. They Quietly Wed
When he and his lady love got engaged on national television, the world assumed we'd all be part of their wedding planning being that it was such a public move. However, that is simply not the case. We were all shocked when they posted a wedding photo on social media in July to tell the world that they'd just done it. They'd gotten married, they were no longer engaged, and not one person knew that they were getting married that day other than the people who are closest to them in their lives. We just didn't see that coming after such a public engagement, but we like that they like to keep things to themselves.