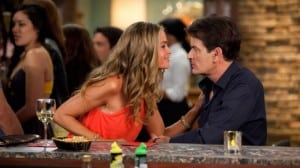 Last week on Anger Management, the series began to set up for its anticipated second season with the arrival of Charlie's dad, played by real life father Martin Sheen. After tonight's season finale, FX will announce whether or not the series met the ratings requirement to earn the ninety episode order that has been hanging in the balance. Should the network decide to move forward with Anger Management, and all evidence points to a very strong yes, fans of the show will be seeing a whole lot more of Martin Sheen when he joins the cast as a series regular next season.
I must say that this series has continued to grow all season long and Martin Sheen's arrival last week just put a stamp on the fact that this show is a legitimate keeper. Admittedly, when I first viewed the pilot, I found it amusing, but a bit like it was trying too hard. I enjoyed seeing Charlie Sheen on the small screen again, but it didn't feel exciting or, as I put it back then, "ground breaking." Well shame on me for jumping to conclusions.
In Anger Management's second episode, "Charlie and the Slumpbuster," the comedic timing seemed to pick up a bit and I began to think that maybe there would be something to the show. Over the course of the next two episodes, the other characters seemed to either develop a bit more or just grow on me, because I began to enjoy Charlie's in house Anger Management sessions and look forward to the interactions between him and his ex-wife.
For me, the real shift came half way through the season when in episode five, "Charlie Tries to Prove Therapy is Legit" aired. It was an incredibly smart if not outright genius move to put Charlie Sheen's real life ex-wife, Denise Richards in as a guest star at the half way point just when the show might be struggling to keep its momentum to the end. As we know from when she guest spotted on "Two and a Half Men," Denise and Charlie's chemistry is fun to watch and they have no problem making fun of their situation. The episode was, in my opinion, the funniest to date and renewed my interest in the show.
From then on, the show seemed to keep up the clever writing and funny story lines from the sex-in-public therapy patient to Charlie's prison Anger Management patient getting out of jail to join his regular session. Before I knew it, it was the second to last episode and Martin Sheen was preparing to guest star alongside his real life son.
It might have been easy to have Martin Sheen come in and play dear old dad to Charlie's more cynical character, but the show took a different route and made Martin the cause of much of Charlie's neuroticism. Trying to convince his son that he had made up all the bad parenting in his head with fake stories of dying puppies and deceased aunts only to be caught in the end as the unsupportive dad he was suspected of being was both funny and ironic. The possibility of these two living under one roof next season seems to hold endless potential and I have to say I'm looking forward to it.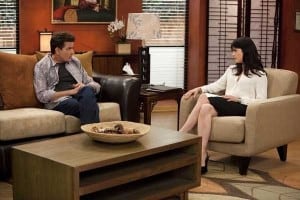 On tonight's season finale of Anger Managment, Charlie innocently invites Kate to a movie, which makes her suspect he is asking her out on a romantic date. Her solution to avoiding facing the reality of their relationship is to try to quickly set him up on a date. If the momentum maintains as it has over the last several episodes, audiences should expect an exclamation point of an episode at the end what I would call a successful first season.
Do you think Anger Management deserves the 90 episode order from FX? Was the first season a winner in your book? Join the conversation on the Anger Management forum here.
Anger Management's season finale airs tonight at 9:30/8:30pm on FX.