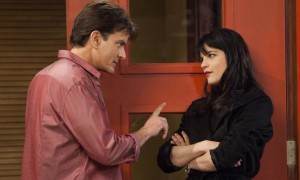 Tonight marks Anger Management's sixth episode of the season, which means it is just past the half way point to the finish line of ten episodes that will determine its fate.
Prior to Anger Management's premiere in June, a deal was struck stating that if it were to reach a particular ratings standard, one that conveniently hasn't been announced, the network would automatically order up an additional 90 episodes of the show, making syndication a virtual lock.
Despite a few tough weeks of plummeting ratings, it seems that Anger Management has pulled off a bit of a slump buster of its own, having improved its ratings last week in a key demographic. With five episodes under its belt and heading into the home stretch, Anger Management just might have what it takes to give Charlie Sheen that comeback he was hoping for.
Tonight on Anger Management, Charlie takes great offense to Kate's (Selma Blair) comment that he is only 'nouveau smart.'He sets off to prove her wrong and begins secretly dating a coffee shop barista with some serious smarts. He soon finds out that she not only pushes the limits on intelligence, but sexually as well with her desire to '˜get it on'in places that she is likely to get caught. Besides the obvious problem with this particular fetish, it just so happens that this brainy beauty is Kate's patient.
Will tonight's episode continue Anger Management's ratings rise to the top or were viewers simply feeling patriotic last week with Charlie Sheen's record breaking donation to the troops? I guess we'll soon find out.
Anger Management airs Thursdays at 9:30/8:30c on FX.