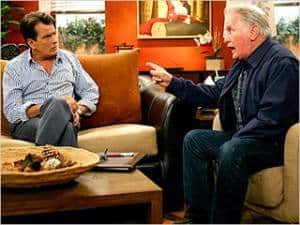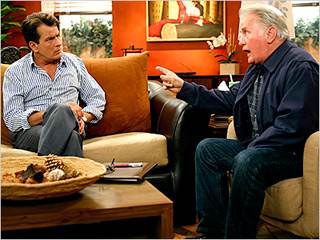 Things are looking pretty good for Charlie Sheen and his new show Anger Management on FX. The freshman comedy has been hitting its mark in the ratings race and is approaching the finish line for its first season by the end of this month.
As previously reported, FX made a deal from the get-go that if Anger Management were to reach a particular undisclosed ratings goal, it would automatically order up an additional 90 episodes of the show, which means Charlie Sheen's comeback is official.
Anger Management marks Sheen's return to television after his highly publicized meltdown and firing from the CBS show "Two and a Half Men" last year. Despite all the naysayers, it seems the man with Adonis DNA may actually pull off another successful sitcom.
According to FX president and general manager John Landgraf, Anger Management seems to be surpassing the ratings goal that the network had in mind and is very likely to be around for several more seasons.
An added bonus should Anger Management make it into another season? A new regular cast member in the form of Charlie Sheen's real life dad and actor extraordinaire, Martin Sheen. Martin is slated to appear in episode nine of Anger Management's first season, paving the way for his entry into upcoming seasons. On the show, the elder Sheen will play the role he plays best, Charlie's father.
With so much to look forward to with the possibility of 90 additional episodes of his show and the opportunity to work with his dad, Charlie is feeling good about his comeback stating he's "excited as hell. I don't think 90 is gonna be enough." It seems that it has to be said, I know I'm thinking it and Charlie certainly is: Anger Management = Winning
Anger Management airs Thursdays at 9:30/8:30c on FX.