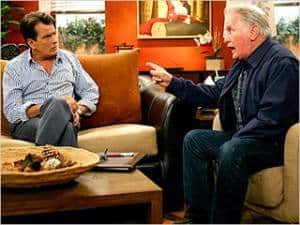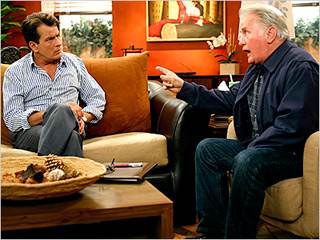 Anger Management continues its run in the race to the end of its first season tonight on FX with its ninth episode, which features a highly anticipated guest star to the series.
On tonight's Anger Management, Charlie gets a surprise visit from his dad, played by none other than his real life father, Martin Sheen.  Although the role seems like a natural one to fall into, the similarities seemingly end with paternity, with Martin's father character acting as less that of a doting dad and more of an overtly critical bully.
The arrival of Charlie's father in tonight's episode is what the series hopes to be the introduction of a new regular character. As previously reported, Martin Sheen is set to join Anger Management as a regular cast member for season 2 if the series is, indeed, renewed.
Next week Anger Management will air its first season finale, which marks the tenth episode of the series. This golden number is of great importance since the network has promised to order up a whopping 90 more episodes if Anger Management is able to meet an undisclosed ratings threshold.
According to FX president John Landgraf, the series is virtually a lock, however, no commitment can be made until after next week…but let's just say that it's looking pretty good like there's going to be quite a bit of father son bonding on the set of Anger Management in the future.
Anger Management airs Thursdays at 9:30 /8:30c on FX.