Three weeks ago Charlie Sheen's new comedy, Anger Management, debuted with impressive ratings averaging at 5.5 million viewers, breaking records for a new series premiere at FX. Last week, however, those ratings slipped down to around the 3.4 million viewers range which, if you are doing the math, is more than a 35% drop. Does this mean that the highly anticipated television comeback for Charlie Sheen is destined to fizzle? Not hardly. After all, that man has Adonis DNA.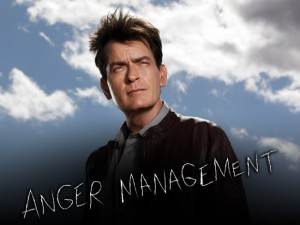 While Anger Management's ratings did decline last week, it was likely a victim, much like many of other shows that week, of the Fourth of July aftermath. Many normal viewers were still on vacation or had family obligations that did not allow them to sit down and watch the television they normally would have tuned in to. That being said, even with the '˜holiday effect,'Anger Management still turned out to be one of the top rated cable shows of the night, so who's judging?
One reason there are so many watchful eyes on Anger Management's ratings is because of a business deal that was struck prior to its premiere. Under this deal, if Anger Management meets a particular undisclosed ratings threshold in the first ten episodes, the network will automatically order up a whopping additional 90 episodes of the Charlie Sheen comedy, which means Anger Management is a virtual lock for syndication.
While it remains to be seen for certain what the future holds for Anger Management, it seems that FX is looking at it as so far, so good. Writers for Anger Management are already starting collaboration for the possible large order on the horizon and seem to anticipate that viewers are going to be seeing a lot more of Charlie Sheen and his Anger Management therapy group in the future.
Anger Management airs tonight on FX at 9:30/8:30c