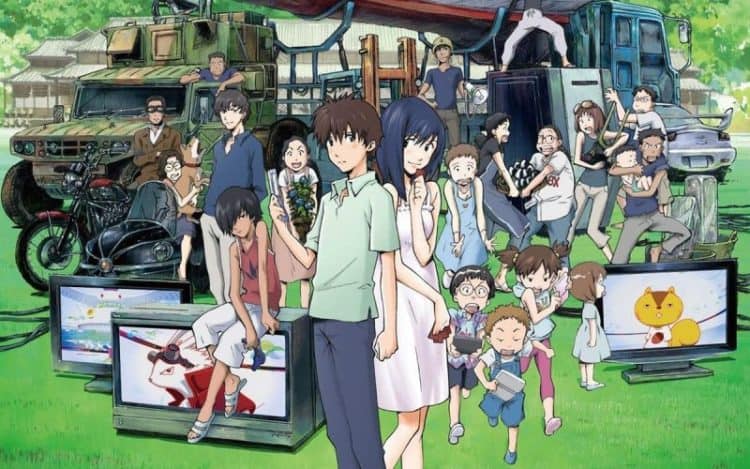 Summer Wars is an anime movie directed by Mamoru Hosoda. It was produced by studio Madhouse and released in 2009. Summer Wars is an original idea from the creator of The Girl Who Leapt Through Time and Digimon: The Movie, Mamoru Hosoda. He first started work with Toei Animation where he co-directed one of his first projects, The Digimon Movie. The Digimon Movie takes us back to the beginning of the whole adventure and shows us how Tai first became acquainted with Digimon. The art direction and animation were miles ahead of their time. Featuring an art style that was mesmerizing and animation that was fluid and enchanting. It quickly became a hit in Japan and was even given an English adaptation which was rare back in the day. He moved on to work at Madhouse where he produced two of his most critically acclaimed works, The Girl Who Leapt Through Time and Summer Wars. Following their success, he opened his own studio, Studio Chizu.
What is Summer Wars?
Summer Wars takes what made The Digimon Movie great and blends it into its own style and story. The story revolves around Kenji Koiso, who is invited by his classmate Natsuki Shinohara to her grandmother's 90th birthday. Unbeknownst to him, Natsuki introduces Kenji to her family as her fiance. Her grandmother is ill and she doesn't want her to move on thinking that Natsuki never found someone to love. Kenji and Natsuki live in a town that makes use of a massive virtual world called OZ. OZ is used for every sort of activity you can think of. If there is an app for it then you can do it on OZ. While on this trip, Kenji gets a message to solve a complex math equation which he does. What he didn't know was that this math equation was used to hack the algorithm for OZ by activating a virtual device known as the Love Machine. Love Machine goes rampant in the world of OZ and causes damages across all of Japan. Hacking banks, telephone lines, and even stoplights. When the livelihood of the family is threatened, Kenji and Natsuki must do what they can to save OZ and in turn save Japan from a catastrophic disaster.
Why Should You Watch It?
Summer Wars is a story about a family told through the eyes of Mamoru Hosoda. The world that Hosoda built in this story is incredible and captivating. A modern-day Japan that is run primarily through this massive virtual world named OZ. If you need to go to the bank you can simply jump into your avatar on OZ and head there from any location. If you need to visit a store or talk to a family member you can meet up in the virtual world of OZ and take care of things. This virtual world opens possibilities never before imagined. But sometimes those possibilities aren't always good. Summer Wars showcases what could possibly happen if we lend too much of our lives to the virtual world. A hacker gets the ability to not only completely wipe out your bank account but they get access to every part of your life. Phone numbers, addresses, and even your shopping habits. It is extremely freighting to know that could all be taken in an instant. Not to mention on a much more global level there are nuke codes, classified information, and other things that could cause catastrophic damages.
This is just a small piece that makes Summer Wars special. The art style is absolutely breathtaking. It is vibrant, colorful, and enchanting. Real love went into building this world of OZ that holds all these colorful buildings and enchanting avatars. Check out the Art of Animation for a few examples of what made the art in this film so beautiful. The action scenes are choreographed beautifully and take full advantage of the art style. Family is the central theme for this film and it presents some interesting circumstances. A fake fiance situation, an uncle that is misunderstood and exiled, and a grandmother that wants nothing more than for her family to be happy. It presents themes that many people can relate to and tie themselves to. This is where this movie really tugs at your heartstrings. It features beautiful animation, a colorful cast, and captivating storytelling. Summer Wars is a movie you should definitely add to your watch list if you already haven't. Mamoru Hosoda is a captivating storyteller and everything he makes is worthy of the attention it gets. His next film, Belle, is slated to be released later this year. Make sure you check back for more news on anime and more anime you should be watching.