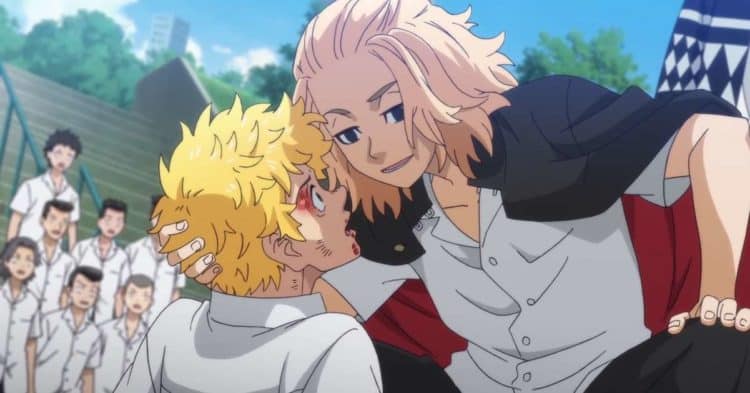 Every anime season features a show that rises up from the rest and shines. Tokyo Revengers is that anime this year. Not only has it risen up, but it has managed to amass insane amounts of hype following its premiere. Tokyo Revengers, written by Ken Wakui, is a manga currently being serialized in Kodansha's Weekly Shonen Manga. It started serialization back in March of 2017 and premiered its anime adaptation back in April of 2021. As of today, there are more than 21 million copies of the manga in circulation. Proving that a successful anime can really push forward the success of any series. 
An Unlikely Hero
Tokyo Revengers follows the life of Takemichi Hanagaki. Unfortunately for Takemichi life has not turned out the way he had always envisioned it. His teenage years as a delinquent were filled with happy memories and friendship. While as a 26-year-old, Takemichi finds himself working a dead-end job he has no interest in and eating the same cup of instant noodles every night. He vaguely remembers when the last time he felt true happiness was. That is until he sees a familiar name on the evening news. Hinata Tachibana. The shock that revives this memory that was lost within him is finding out that the only girlfriend he has ever had, was killed during a dispute between rival gangs. 
Takemichi suddenly realizes that up until that moment he had completely forgotten about her and how much she meant to him. He continues his mundane life but can't help but think to himself why he never reached out to her again. Just when he is about to mourn her he's suddenly pushed into the tracks of an incoming train. He sees his life flash before his eyes. His final thoughts before the train hit him is wishing that he could tell Hinata Tachibana how he felt once more. The train approaches and Takemichi's sight goes black. When he finally comes back to his senses he realizes that not only did he survive, but he is back in his delinquent teenage body. Takemichi struggles to understand what this second chance means but he knows what he wants to do with it. Save Hinata Tachibana from the fate that awaits her.
Why You Should Watch It
Tokyo Revengers is an insane story that will take you through an insane time-traveling journey and have you question your morality. It will have you on the edge of your seat as you witness the intense gang battles and the betrayal that takes place as this story unfolds. Tears will be shed as some truth's come to light and the harsh reality of the gang world is presented to these young delinquents.  Don't believe us? Check it out for yourself by watching the Official Crunchyroll Trailer:
A Proven Studio
It's being animated by LIDENFILMS, the studio behind series like Scum's Wish and Yamada-Kun and The 7 Witches. Their animation has proven time and time again that they are one of the most prolific studios in the industry. They mastered the art of creating tension with Scum's Wish. With Yamada-Kun they proved they could do hand-to-hand combat and intense action scenes. It's one of the reasons Tokyo Revengers has been off to such a great start. It maintains that tense atmosphere while delivering memorable fights throughout each episode. LIDENFILMS is proving that they want to make this a series that goes to the lengths of shows like Demon Slayer. It would be no surprise if a second season was already in the works and ready to be announced.
It's being directed by Kouichi Hatsumi who was behind shows like Blue Exorcist, Deadman Wonderland, Dororo. With a cast like this behind the show then it's no surprise to see it running so beautifully. We'll see if LIDENFILMS can keep up with this quality until the series finale.  The talented voice cast includes Yuu Hayashi as Manjirou Sano, Tatsuhisa Suzuki as Ken Ryuuguuji, Shin Yuuki as Hanagaki Takemichi, and Shou Karino as Chifuyu Matsuno to name a few. The soundtrack is being developed by Hiroaki Tsutsumi. 
Where to Watch
It is currently airing on Crunchyroll so make sure you check it out to see what all the hype is about. Since it's a new series there aren't many episodes so you can wait until the cour is finished to binge or you can start watching now and keep up with it every week. Comment what other animes you think to deserve some recognition in the comments below!