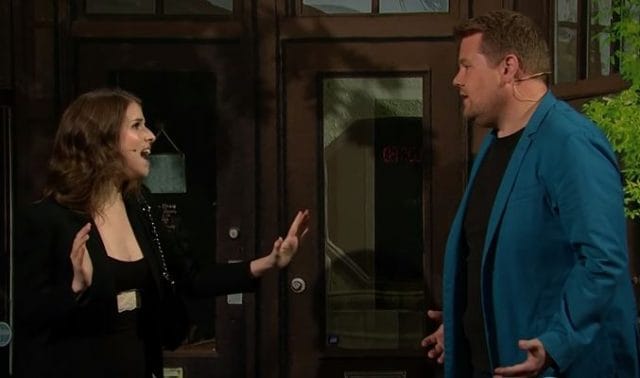 Anna Kendrick stopped by The Late Late Show With James Corden last night to promote her new film, Mike and Dave Need Wedding Dates, which hits theaters on July 8. However, before she and Corden got to talking about the movie, the two of them came together to perform a medley of famous love songs in what Corden called a "Soundtrack to a Love Story."
In the video below, Kendrick and Corden essentially act out the different phases of a relationship, from first meeting to marriage to breaking up, all while singing different popular songs to illustrate what's happening. For example, before their wedding, the two of them sing Bruno Mars' "Marry You," and after they break up, Kendrick belts out Adele's "Someone Like You" (although Corden also chimes in on that one as well).
In addition to Adele and Bruno Mars, Kendrick and Corden also sing songs by The Weeknd, Cher, and Boys II Men, and each one of them is more fun than the one that came before it. It's pretty much like a smaller scale version of "Elephant Love Medley" from Moulin Rouge, and thanks to the combined charisma of both Anna Kendrick and James Corden, the entire mini musical  is a must-watch.
Check out the "Soundtrack to a Love Story" below:
[Photo via YouTube]