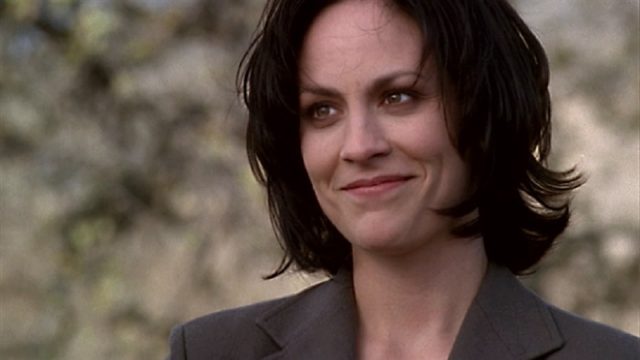 Let's stop and celebrate the good news first: the X-Files are coming back for an 11th season! Â For so many years now this show has been among one of the many reasons why people still have faith in television and why they continue to believe in the paranormal. It doesn't really matter that it's a show and of course a lot of these things are contrived, it's the fact that the show is still here. Since they were first brought to the public's attention Mulder and Scully have been considered a needed mainstay of American pop culture. So the stories have gotten a bit silly sometimes, it's still a large part of why people tend to love the X-Files.
This next season will be bringing back quite a few recognizable faces, and Annabeth Gish is one of them. Just in case you need a refresher on Gish's character, here you go.
She was brought in back in season 8.
Monica Reyes, the character that Gish plays, was called in by John Doggett, played by Robert Patrick, to deal with a particularly strange case. She became a mainstay in season 8, through season 9 and then in season 10 her role was reduced as we saw Dana Scully come back into the picture. Her character was brought in to mixed reviews and for a good reason. People had already become fiercely loyal to Fox Mulder and Dana Scully throughout the last several seasons and were hesitant to really accept another person in Scully's place. Robert Patrick had already taken some time in getting acclimated to the role, but had earned his place and thus been accepted. After a while however people finally got used to the presence of Monica Reyes only to see her go away.
She was an important part of why Scully and Mulder are still alive.
Deplorable as it might sound Reyes made a deal with the Smoking Man in exchange for the lives of Mulder and Scully. In other words she made a deal so that the two would be made immune to the dreaded Spartan virus. Unfortunately Scully spurns her for making this deal and for the fact that Reyes has been helping the Smoking Man for 12 years. Needless to say if you don't remember the Smoking Man, he's not always on Mulder and Scully's side. Still, for all that her betrayal stings, Reyes does manage to help a little before she disappears.
Annabeth Gish is just one person that is reported to be coming back for season 11.
While we don't really have the skinny on what will happen with Reyes or what part she'll be playing, we do know that she's coming back. There are rumors that Robert Patrick could be coming back as well, which would be very exciting indeed. We know that the Smoking Man and the Lone Gunmen are at least slated to drop in. The more the merrier right?
The next season of the X-Files is primed to be a wild ride as fans have more to look forward to in the always interesting saga of Mulder and Scully.
Save