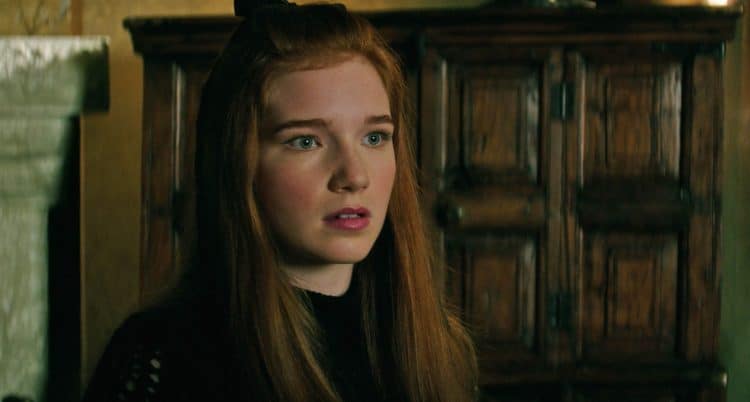 Annalise Basso is only 21-years-old, but she's already on the brink of major success thanks to a main role in the new series, Snowpiercer. The show is set in a post apocalyptic world where everything is frozen. Annalise's character is a young girl named L.J. Folger who lives a very modest lifestyle that she is content with until something happens that changes everything. This role will likely be the opportunity that helps take Annalise's career to the next level, and it's certainly well-deserved. Keep reading for 10 things you didn't know about Annalise Basso.
1. Her Siblings Are Also Actors
Acting skills definitely run in the Basso family; both of Annalise's siblings are also actors. In an interview with Rama's Screen, she shared, My sister was really the one who started it all. And kinda just became a friendly competition, 'How much was that check?' 'How many lines did you have today,' it wasn't a hurtful competition. I'm a competitive person and so was my brother and so was my sister. It started out as a hobby. Then when we started booking more roles, it became wow, this is a career."
2. She's A Beyonce Fan
Beyonce is easily one of the most successful entertainers of all-time. Her career has stood the test of time, and at this point it's almost hard not to be a fan of her work. While Annalise hasn't outwardly said she's a member of the BeyHive, she is definitely a fan of Beyonce's work.
3. She's Been Working Since She Was 9
Annalise may seem like a new comer to some, but she's been in the business for more than half of her life. She began working when she was just 9-years-old when most other kids her age were busy thinking about recess and coloring books. At one point, she discussed taking a break to travel and attend college although it doesn't look like she ever got the chance to do that.
4. She Likes To Do Some Of Her Own Stunts
One of the most exciting parts of Annalise's job is that she occasionally gets to do some of her own stunts. She says one of her favorite roles was a guest appearance on the show Nikita because she was able to do some stunts. She added, "it's cool having battle scars because people think actors and actresses are so glamorous, everybody babies them, which some of the time it's true. But it's cool to have battle scars."
5. She's Passionate About Photography
Acting may be her bread and butter, but photography is another one of Annalise's passions. She loves to take photos and she has been using her time in quarantine to get back into the hobby of capturing moments with her camera.
6. She Likes To Read The Chronicles Of Narnia 
Annalise loves to read, and The Chronicles of Narnia is her go-to option when she's feeling down. Now that she's been spending a lot more time in the house, she has had the opportunity to catch up on some reading. Lately, she's also been Anne of Green Gables.
7. She Loves The Outdoors
Sometimes it's nice to get outside and escape from all of the stress and commotion of every day life. This is something Annalise enjoys doing on a regular basis. She loves spending time outdoors and often goes for hikes and walks around the trails in her area.
8. She's Scared Of Goats
Do you have a deep, dark, and totally random fear that you don't usually like to share with people? Annalise certainly does. Annalise told Buzzfeed that she is "terrified" of goats although she hasn't gone into detail as to why.
9. She's An Artist
Annalise is the true definition of the word multi-talented. On top of everything else she does, she's also a very skilled artist. She enjoys drawing and painting and has made some pretty impressive pieces. She even has an Instagram account specifically dedicated to her original artwork.
10. She Rides Horses
Annalise's parents live in Colorado which is where she has been spending her time during the COVID-19 pandemic. One of her favorite things about being back home is that she gets to ride her horse. In addition to her love of horses, Annalise also loves animals in general. She supports a Utah based non-profit organization called Nuzzles & Co. which encourages people to adopt animals in need.