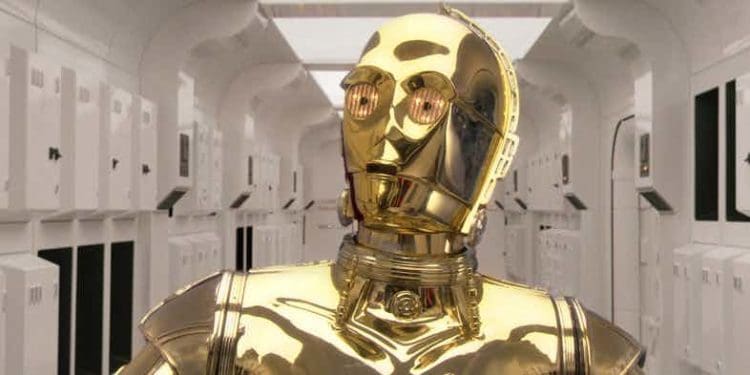 One might have to think about it, but it should be easy to come to the conclusion that there are really no other actors that have been around for Star Wars as much as Anthony Daniels since his iconic voice, that of the golden droid C-3PO, has been present in just about every Star Wars movie, and has actually been there for every Star Wars movie and show that has featured the character. It's understandable if people want to run a fact-check on this since that's a rather bold claim that many would make, but at the same time, it's accurate since his voice has been the one behind the droid the entire time and he's been adamant about staying on for as long as he can since now that he's relegated to a voice role only it's bound to happen that he can keep going for a while, even being in his 70s since the technology of the current day is great enough that all that's needed is his voice. For those that want to see what he actually went through on set back in the day when he was first filming with the actual cast, there are plenty of YouTube videos and articles that describe the tedious and sometimes demanding process of getting into the suit and making it work. But his voice has been one of the biggest parts of the droid that people have noted for so long and it's this that has kept him around for decades now as part of one of the greatest franchises ever made.
He's also one of the oldest Star Wars actors that's still around from the 70s as there are a few older than him such as David Prowse, who played the physical part of Darth Vader, James Earl Jones, who of course played the foreboding voice of the Sith lord, George Lucas, and Harrison Ford. Apart from these individuals, Daniels is one of the oldest members of the original cast that's still around, and still taking up his role whenever possible. To stick with something that long is incredible to be honest, since Ford couldn't wait to get away from the franchise and the others had their time and then move on. Some might want to say that he willingly attached himself to Star Wars for this long and they're not wrong since the bulk of what he's done has been for the franchise, but Daniels has taken on other roles in TV as well over the years, but considering that he's made such a great career out of voicing the golden droid for so long it's easy to think that he saw something worthwhile and didn't want to spoil it. After all, C-3PO, despite being kind of a whiny character, has gone down in history as being one of the best and most recognized characters ever since he's been as much help as hindrance over the years and has earned his spot in Star Wars history many times over.
Given his net worth, it's quite easy to think that playing the droid has been good for him over the years, even though it's likely that he might have questioned what he's doing with his life a time or two since any chance to get away from playing this character appears to have gone by the wayside a long time ago. But listening to Daniels now it's evident that he wouldn't change a thing since he's still very much down to play the character until someone carts him out of the studio, which could eventually happen if his voice gives out or he's physically unable to perform any longer. Age has a way of reminding us that even the simplest things won't be possible at some point, but Daniels is determined to make it work for as long as possible, and while it might not happen on the big screen there are plenty of other Star Wars projects that are still coming along that could use his voice talents. If and when the day ever comes that his voice needs to be replaced, it will be a sad day since it will mean one of the last classics from the franchise has finally been laid to rest in one way or another, but the great part is that we'll still have hours and hours of Daniels' best performances as C-3PO to enjoy, meaning that he won't be gone for good so long as people enjoy watching what he's contributed to Star Wars over the years. Some actors do their best to get away from franchises in order to have a full career, but it does feel as though Daniels decided to stick with the one franchise that absolutely made his career. There are a lot of fans that are undoubtedly thankful for this.