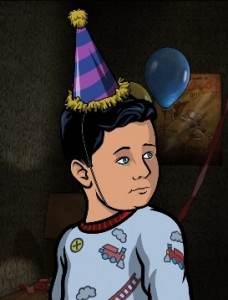 Archer drives along with its latest from season 3, or technically season 3.5 with "Drift Problem," as a spy car given as a gift for Archer's birthday winds up stolen, sending the ISIS agent on a rampage to see it returned. More or less, we liked his last rampage better.
Given how much I unexpectedly liked last week's 'Skytanic'sequel of sorts, the madcap 'The Limited,'it wasn't surprising that the next week might be something of a letdown. I'm not usually a tremendous fan of Archer, but I like the way the series rewards long-time viewers with an endless barrage of joke callbacks, which 'The Limited'did very well. 'Drift Problem'by no means attempted to piggyback on that success, but it wasn't fresh or nostalgic enough to really win in either direction.
Interestingly, 'Drift Problem'wasn't sent out with FX's initial batch of Archer season 3 screeners, perhaps given some of the more complicated CG rendering, and next week's 'Lo Scandalo'was the last of the episodes sent for review. I doubt the episode was withheld for quality purposes, but sandwiched between two far stronger episodes might have put 'Drift Problem'in something of an awkward state.
All of the pieces are there, from an exploration of Archer's birthday promising callbacks to the twisted relationship Archer shares with his mother, to his bad-ass birthday present of a souped-up, tricked-out Dodge Challenger. And you know (from the promos) that once someone steals said car, it's going to be 'Terms of Enrampage-ment 2'all up in this mother (no pun intended)! Yet in spite of the setup, nothing quite clicks the way it's supposed to, and you wind up with extended sequences of getting from A to B, Archer monologuing about the car, or the predictable twist that Malory herself was the culprit, stealing the car as some kind of demented lesson.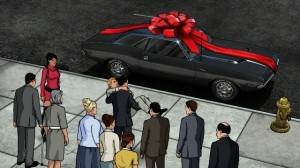 You'd think there would be a lot more to explore for the world's most egotistical spy on his birthday, given the dark upbringing with Malory, and a tense Tokyo drifting session that culminates in a shootout with the Yakuza, but somehow the magic seemed to be missing this week. 'Drift Problem'isn't a bad episode by any means, but it felt more recycled and indicative of other Archer plots than it brought anything new to the table.
The same goes for the supporting cast, who predictably manage to tag along on Archer's quest to reclaim the car, dubbed 'Jeannie'(or Genie, if you're nitpicking), but don't really add much to the equation. Better episodes of Archer can weave Pam's nocturnal activities or Cyril's pathetic participation into a storyline effortlessly, but 'Drift Problem" makes the mistake of hinging the story on the search for the car, which isn't set up to be all that valuable to anyone but Archer himself. Everything else just kind of…problematically drifts into place.
Come on, you have to give me some credit for that one.
And Another Thing…
The rampant Dodge product placement thankfully isn't obnoxious, but rather woven in to some nice potshots at the ways shows these days tend to make them more obvious. And those folks at Dodge are good sports. BUY DODGE!
I'm surprised there wasn't more attention given that George Takei was lending his voice to the episode, considering the hoopla raised for Burt Reynolds and Bryan Cranston.
Favorite new recurring gag to play with: Archer's elaborate hoax voicemails.
I'm not crazy about the way Archer handles CGI for the driving sequences, but sometimes it seems less jarring than others.
'That was for Pearl Harbor!'
I was a little confused myself, but eagle-eyed fans have pointed out that the new owner of the car in the episode's ending wasn't'Popeye, but rather a character from Adam Reed's previous series Frisky Dingo.
What did YOU think?