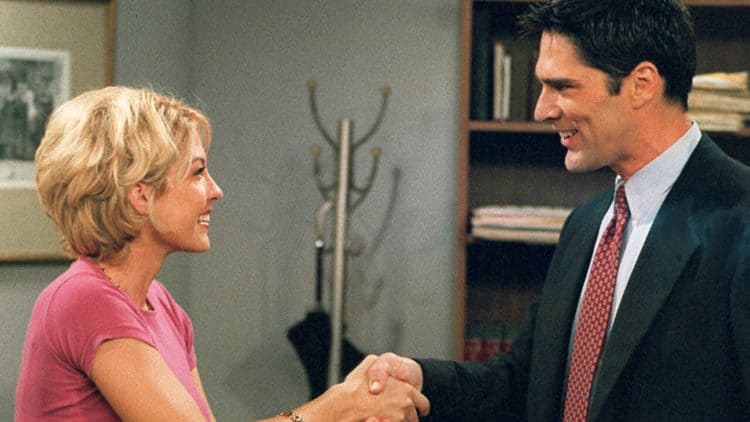 Before streaming services and DVR, people anxiously waited for the night their favorite show aired. There were many memorable sitcoms on the air throughout the years, including classics like I Love Lucy, Bewitched, Gilligans Island, The Brady Bunch, and The Wonder Years. However, during the 90s, sitcoms really began to take off. Shows like Friends, Will and Grace, and Seinfeld are still wildly popular today. In fact, Friends has seen a considerable revival, including a reunion episode and a traveling exhibition for Friends fans to experience memorable moments from the show in a live exhibit. Will and Grace had ended in 2006 but came back in 2017 for three more years. Dharma and Greg, despite not earning as much critical acclaim as others throughout the decade, had a sizable fan base, and fans are wondering if it, like other 90s shows, will ever be rebooted.
Quirky and fun
Dharma and Greg first aired on September 24, 1997, and ended on April 30, 2002. Executive producers Dottie Dartland and Chuck Lorre created the show playing heavily into the cliché opposites attract. Although there was a superb supporting cast, the show centered around the lives of the title characters. Dharma, played by Jenna Elfman, is the embodiment of a flower child, constantly enthusiastic and wanting to make the world a better place. Over the show, she helps Greg relax more and stop focusing on money and power and enjoy life. Greg, played by Thomas Gibson, grew up in a Republican family and led a shallow life until he met Dharma. However, during an impetuous moment, he marries Dharma on his first date. The pairing seems like a recipe for disaster. Despite clashing on numerous occasions, they work through their issues and keep the marriage alive.
Enthusiasm
Elfman has been vocal about wanting to see a reboot of the show. In an interview with Entertainment Tonight Canada, she enthusiastically discussed bringing the show back and why she feels that it is as relevant today as it was twenty years ago. Her biggest concern is that the show's chemistry would need to match what it was all those years ago. When asked about her character, she said, "Dharma sets such a good example for girls. I think she's a good role model for that. It's okay to be who you are; you don't have to get permission or apologize. Just be you, and that's awesome." Additionally, she feels that the country's divisiveness has become Dharma and Greg would be a panacea, allowing people to get outside of themselves and laugh.
The duo
In an article from The Inquisitor, Kim McLendon discussed her thoughts about the show in 2017 and whether or not it could make a comeback. Thomas Gibson had just been fired from the show Criminal Minds, much to the displeasure of his fans. Even though Gibson has had continued success since the show, his role as Greg remains his most memorable. When asked, it was clear he missed the five years working on the show. Jenna Elfman has not enjoyed the same level of success Gibson has since leaving the show. Although she still maintains a large fan base, her performances have not been well received by critics. It seems like she just needs to find the right part, which may be bringing back her iconic character.
Speculation
Elfman has been vocal about seeing the show return. Additionally, after Gibson was fired from Criminal Minds, he teased that the next thing he wanted to do was a comedy or play. Although both actors being vocal about how much they enjoyed doing the show, release dates or even the possibility of a reboot is only Elfman's hopeful enthusiasm, much like the character of Dharma. Elfman still enjoys recognition from fans of the show. In an interview with People, she talked about fans who stop her on the street and call her Dharma. It makes her happy that she has impacted their lives and that the show she did years ago is still fondly remembered.
Date not pending
Despite teasing the stars and a loyal fan base who would love to see the show back on the air, there are no concrete plans to bring the show back. Perhaps it's because it didn't have the broad range appeal of some of the more popular shows like Friends or Will and Grace. Streaming services have saturated the market with performances. Even though some have stayed close to fans' hearts prompting a revival, others like Dharma and Greg didn't quite get the amount of fame to merit a revival.
Another reason the show may not make the cut for a comeback is that instead of going on with huge fanfare and coast-to-coast watch parties like Friends, Dharma and Gregg were overtaken by another massive hit from the 90s, Frasier. According to Looper, the show's slump started during the fourth season when it was pushed to a later time slot, the same as the Cheers spinoff Frasier. The ratings dipped further in 2001, and the show was canceled in 2002.
Final Thoughts
During its run Dharma and Greg did very well, earning eight Golden Globe nominations, six Emmy Award nominations, and six Satellite Award Nominations. In 1999, Jenna Elfman won the Golden Globe for best actress. Over time, the rating slumped, and the show began to fade into obscurity. However, with everything going on in the world today it would be wonderful to see a lighthearted show so we can all experience a much-needed laugh. One of the best things Dharma taught viewers in the show was to always be open-minded. Even though many of the things she believed were strange and a little bizarre, she maintained her optimistic side and was a great counterbalance to Greg. Perhaps that same open-mindedness is what fans need to keep. Much like Elfman's sentiments, it would be cool to see a Dharma and Greg reboot.