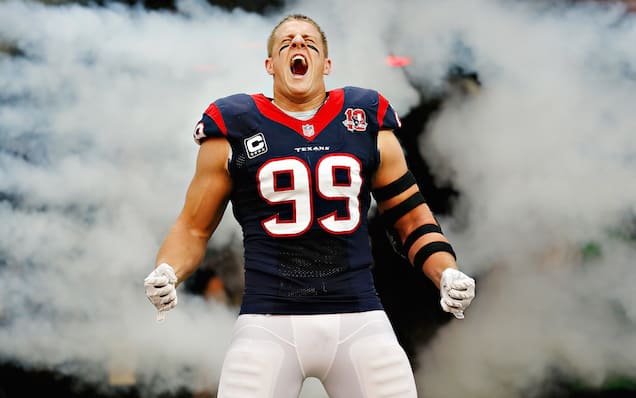 Saturday night the Houston Texans were handed a pretty tough loss to the Kansas City Chiefs to the tune of 30-0.  Millions were watching as leader J.J. Watt and his teammates got crushed at the hands of Alex Smith and company.  One would expect the Texans to be pretty down about the loss but Arnold Schwarzenegger had some words of encouragement for who many consider to be the best defensive play in all of football.
The Terminator and former California Governor sent out a video following the game imploring Watt to get up and keep fighting. Schwarzenegger reminded them why they have every right to hold their heads up high by saying:
Just remember one thing—you didn't lose the day. And I'll tell you why: Because losers stay down. And I know you and the Texans, you always get up. That's why you're winners, and you always will be winners. So get going and get up. Put some fire into this team and march forward.
In true Arnold fashion, he even closed it out with an "Hasta la vista, baby."  At least J.J. can watch this video in the offseason and be reminded that the Terminator thinks he can do it.  It's just too bad he has Brian Hoyer as his QB.  How many interceptions did Hoyer reel off?  Ouch.  Enjoy the clip!
.@JJWatt Get up. You'll be a champion next year. pic.twitter.com/d5Z9j8qpBx

— Arnold (@Schwarzenegger) January 10, 2016