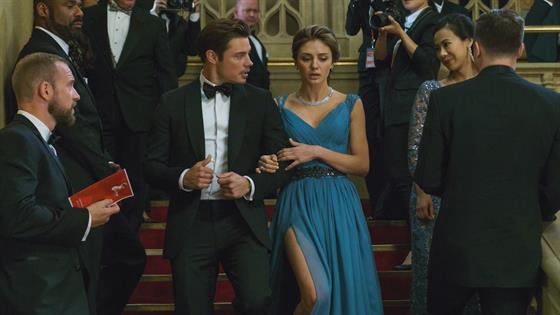 In any good series there is a clear, physical antagonist and a deeper, less tangible one hidden beneath the surface. Such is the case with The Arrangement. It's easy to spot the person who would most easily cause trouble for Kyle and Megan's budding romance, but subtle moments highlight a deeper obstacle. Fame comes at a price, which is how Kyle and Megan's unorthodox deal started. Kyle needed the right person who understood the sacrifices which needed to be made working in this industry, but the more Megan learns the more she realizes she didn't understand what she was sacrificing.
Kyle and Megan are moving full steam ahead with their plans to marry, and it starts with their public debut as a couple in Venice. It sure seems like a fabulous new life. Who wouldn't want to be sashaying down red carpets in $80,000 diamonds? Nothing comes free though. Everything Megan says, does, wears, reflects back on Kyle. Terence is quick to remind Megan of this. Every single thing she wears to Venice is pre-approved, and she has to watch every subtle move she makes. It's not as though Kyle and Megan don't make a great couple. If you can spend hours just talking to someone, it sets a great foundation going forward. They have genuine fun when they get there, and the Italian paparazzi aren't as invasive as Hollywood.
Kyle is definitely a step up from Megan's ex Nick. I'd pay to see the look on his face when he realizes that Megan's relationship with Kyle is not a fling. However, we learn that Deanna paid Annika to be Nick's groupie with the promise of a career. Deanna has plans for Megan that her husband doesn't know about. Annika is not okay with it when Megan's career takes off instead of hers, so turning to Terence instead of Deanna makes the most sense for her.
Within a day everyone in the world knows who Megan Morrison is. As predicted, everyone discusses every single facial expression she makes. It's not like it's the easiest task to keep a cool face while your soon-to-be husband takes photos with his ex-fiancee for the whole world to see. Yet it's in her contract. Part of that contract is also lack of privacy with her phone and her whereabouts. The one time Megan breaks away to meet new friends, she is hit with the uncomfortable realization that she will never have a self-made career. Even if she has a successful career and she and Kyle become a supercouple, her career will always be propped up by his. That pushes Megan straight out the door in the path of a rapist. Kyle may scare that guy away, but the rage he unleashes on a paparazzo afterwards requires cleanup that Terence doesn't like. He much prefers Kyle calm and complacent. Megan is the one who sees Kyle's actions as natural rage.
It would be easy to see Terence as the antagonist here, but is it the lifestyle?
The Arrangement Season 1 Episode 2 Review: "The Ex"
Summary
Megan gets a better idea of the quality of life she will have in The Arrangement.