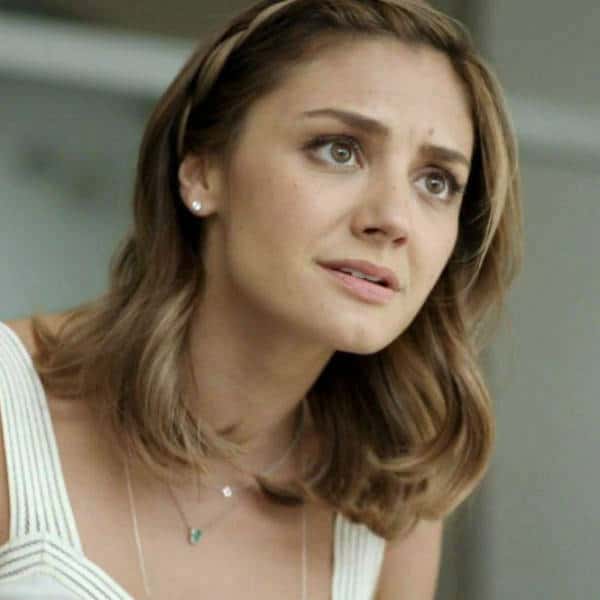 You could put The Arrangement in the small box of a spoof on Tom and Katie's relationship with Hollywood and the Church of Scientology. What is actually emerging amidst the soapy drama is a strong commentary on the role of women in Hollywood, what their power and limitations are, and how they balance that lack of equal respect to their male counterparts all while being in the public eye. For women like Deanna and Lesley who have lived in this industry for so long, the game is still a constant surprise. For newcomers like Megan, it's a pop quiz kind of game where you learn on the job or you fail.
Megan is hit with the fact that she is not in a normal relationship, so she can't just have a normal separation. Legally she is not allowed to be away from Kyle from more than 3 days. On a side note, I am very impressed with Lesley's fierce, if somewhat neurotic, handling of Megan's career when she is ready to pop. Another great commentary on the ability of pregnant women to be as dedicated professionals as any man.
Speaking of dedicated female professionals, Deanna isn't doing that great these days. Just because so much of their marriage is built around their professional lives, doesn't mean Deanna and Terence don't have a real marriage with real personal issues to work through. They have to be able to have a clear line between their individual professional responsibilities if their marriage is going to survive. Terence is already being questioned by the police over disappearances related to the Institute, so neither he nor his wife are in a position to be making costly professional or personal mistakes. Deanna has to deal with Anika's pushiness and eventual blackmail to get Deanna to cooperate, proving just how little women in positions of power are respected in Hollywood even among other women.
Personal business aside, the professional separation has interesting effects on the both Kyle and Megan. Megan runs into her filmmaker friend Daisy, whom she met in Venice. They end up walking onto a porn set where the story is loosely set on Megan. Instead of feeling disturbed or insulted, Megan feels empowered by the main star's sense of stability and self-worth. Megan and Daisy decide to go ahead and produce a behind-the-scenes tell-all about that world, of which the research inspires some interesting reunion conversation between Megan and Kyle.
Kyle works on recruiting an athlete friend of his to the Institute of the Higher Mind. Though Megan might not understand that world completely, she proves to be quite useful to Kyle's cause. Megan is good at reading people in the industry, women specifically. She understands that in order for Kyle to get Brandon, they're going to have to please his wife. Karaoke almost always lowers people's defenses. It certainly bridges the gap that has formed with Kyle and Megan in the past few days. However, Brandon's toxic relationship with his wife causes a car crash. Though Megan, Kyle, and even Terence have to save the day, Brandon spins the story to his advantage. It's an unorthodox way for Brandon to be recruited, but at least Terence gets what he wants. The situation doesn't sit right with either Kyle or Megan, and it motivates them to seek more real in their reality. Kyle makes his scene partner cry by simply asking her to be real, and Megan challenges herself to read for a play.
Hope may have been wrong in sending those photos of Megan to the paparazzi, but she might have a better handle on the institute than either one of her friends. For all intents and purposes, Megan will be marrying into the Institute at some point. What no one could have expected is that Shawn would be so willing to give the Institute a try, if only to see what her new boyfriend sees in it. Of course, Hope did the one thing that would make her untrustworthy on any matter to her friends should she decide to want to protect them.
Do you agree that The Arrangement is making a strong commentary on women's roles in Hollywood?
The Arrangement Season 1 Episode 4 Review: "Crashing"
Summary
Megan and Kyle hope the personal difficulties of the Arrangement work themselves out as they focus on their next career moves.