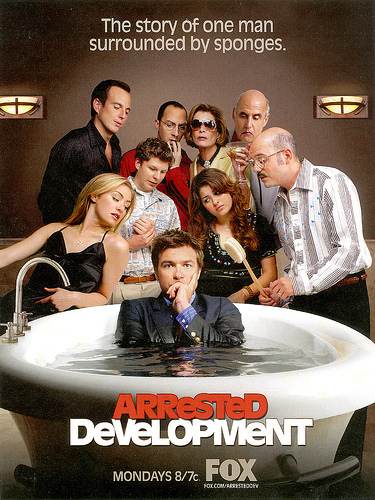 Ever since the funniest television comedy of the decade was cancelled (too soon) after its third season, there have been talks of an Arrested Development movie. Cast members of the show have listed the film in various stages of conception and development, though their stories haven't matched up. In fact, just last week, star David Cross (who played Tobias Funke on the show) called the project "dead," and that it was "not going to happen."
Jason Bateman, who played main character Michael Bluth on the series, debated that fact with the Los Angeles Times. "David says that it's dead, but it's not dead at all," Bateman countered.
What's the hangup? That can be blamed on the unavailability of writer/director Mitchell Hurwitz and star Will Arnett (who played Gob Bluth), both of whom are filming a pilot of Wilde Kingdom, which stars Arnett as a Beverly Hills mogul who falls in love with a tree-hugger who despises him.
"Mitchell Hurwitz is busy shooting a new pilot with Will Arnett, and perhaps when they're done shooting and editing and he's delivered that, perhaps he'll jump into writing the script," Bateman said.
It's interesting, though, because various reports have claimed that a script is already written, and that the project has been slated for release in 2011. But according to Bateman, that's not the case at all. In fact, a studio hasn't even backed the film yet. "Once the script is done, it goes to the studio and they decide if it's a script they want to make, and the actors will decide if they want to be in it."
That's a far cry from the "almost-ready" cries from entertainment sources around the internet. What do you think? Who is right, Bateman or Cross? Would you want to see an Arrested Development movie, or would you rather just let the series speak for itself? Sound off in the comments below!