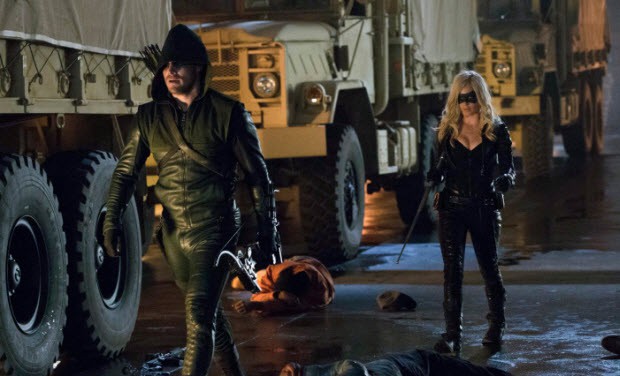 I think Arrow's revelation last night would have been a lot more compelling if a certain network president hadn't accidentally spoiled it during interviews, but what is done is done. We learn that the Canary's true identity is Sara Lance who everyone thought died in the pilot on the Queen Gambit.
While I'm not sure how to feel over the fact that she is still alive, I'm actually enjoying this storyline because it now gives us a very different story for Oliver. We see in the flashbacks that he did end up meeting her in some unknown location and she felt evil in that last scene.
It makes me wonder how the show will move forward with these two storylines. We are currently seeing a somewhat of a good Sara while in that flashback, she seems a bit more dark and I'm dying to find out how she got from point A to B.
Caity Lotz is just fantastic in this role that I never thought would end up like this. I'm not sure if the Arrow writers had planned this the whole time, but regardless, I'm enjoying this story a lot and Lotz's dynamic with Amell is very believable.
I think it was great that Andrew Kreisberg (executive producer/show-runner) co-wrote this particular Arrow/Canary story because he was the writer of the long-running Green Arrow and Black Canary series a few years ago.
It's definitely a new twist on the Black Canary character, but I'm always up for new interpretations of comic book elements. I'm interested to see how this story will transit to Laurel becoming the vigilante she is destined to become.
The one thing I hope doesn't happen throughout this story is an Oliver/Sara relationship because we really don't need that. I'm fine with focus on the Roy/Thea relationship because that one has worked since season 1 and I just love the chemistry that Haynes and Holland have.
The costume department deserves a big hand because their adaptation of the Canary costume is just superb. The only nit-pick I had with it was the mask thing because even though Sara is blond, she is wearing a blond wig that is somehow attached to the mask.
What is the point of hiding your blond hair if you are just putting on a blond wig? We find out more about her relationship with Sin who I'm enjoying a lot because of her sassiness and Bex Taylor-Klaus better be on the show for a while.
As much as I love Katie Cassidy, I'm not sure I'm OK with what the writers are doing for her character right now. On the other hand though, I can actually see the logic in their choice of wanting her to go downwards to perhaps rise even stronger, but it has to be done the right way. It was heartbreaking to see Paul Blackthorne's character on that meeting where he expressed that he fears for his daughter safety.
Summer Glau just continues to get stronger, but I feel that we need to have a huge Isobel episode soon because we still don't know much about her. I did love her interaction with Felicity, though because it's always hilarious to see a super-serious character with a more lighten character.
I didn't expect to see Sebastian Blood be revealed as Brother Blood this soon in the season. This is a character that I'm not that familiar with so I have no idea how close they are doing it to the comics, but it seems that he is having some sort of cult which he has in the comics.
The mask was creepy as it felt like a combination between the Scarecrow mask we saw in The Dark Knight trilogy and the mask that Andrea Beaumount (The Phantasm) wore in the animated film Batman: Mask of the Phantasm.
I think we all knew that in the back of his mind, Blood was going to be more than just Oliver's antagonist. But because of Kevin Alejandro's fantastic performance, he actually fooled me a bit in this episode. I'm not sure what that final scene was all about, but whatever he injected "the Mayor" with, it can't be good.
"Crucible" is continuing the fantastic start that season 2 has kicked off with and while I won't get into spoilers, I'm really excited for next week's episode of Arrow, called "League of Assassins. If you know what that is then you will understand why I'm so excited for it.
Arrow airs Wednesday nights, 8/7c on The CW.