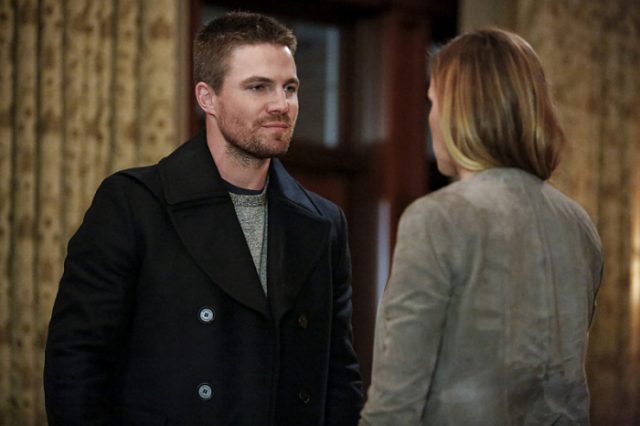 100th episodes of TV shows are always a time for celebration, to show just how far the series and their characters have come since the beginning while also remembering all the history that comes with a run that long. Tonight's 100th episode of Arrow was no exception to that rule, as it illustrated not just how much Oliver, Thea, Diggle, and the rest of the show's main characters have grown and evolved since they were introduced back in the series' pilot but also took time to reflect on everything that has transpired since Oliver's return to Star City nearly five years ago. "Invasion!" utilized both flashbacks and full-blown reappearances from  some of the show's most important figures, such as Moira, Laurel, and even Tommy.
However, Arrow's 100th episode was more than just a celebration of what has happened within the show and its universe. Thanks to the crossover nature of the installment, which included characters from Supergirl, The Flash, and Legends of Tomorrow, the episode also served as well-earned recognition for everything that Greg Berlanti and his creative team have achieved in the four-plus years since Arrow premiered and for all the TV series, characters, and comic-book moments that have spawned from the enormous success of The CW's first, original DC Comics show. In many ways, this was an episode about Arrow's current and future legacy.
But in addition to all of that, "Invasion!" was also a damn fine hour of television, one that used the tried and true "dream world" concept to tremendous effect, as we watched Oliver, Thea, Diggle, Sara, and Ray struggle to break free of the illusion that the Dominators had stuck them in. Unlike the real world they live in, the universe that the Dominators created didn't have loss or tragedy; Robert, Moira, Laurel, and Tommy were all still alive, and it appeared that, on the surface, Oliver had everything he wanted: a relationship with his parents, the love of Laurel, and even the approval of Quentin. However, as we've seen so many times before in these types of episodes, what seems too good to be true always is, and it's not too long until Oliver, Thea, and the rest of the group begin to see the cracks in the Dominators' world. As good and as happy as their lives seem now, they start to understand that none of it is actually real, and while it's an appealing option to remain in this dream-like state, it wouldn't be better than truly living.
That conflict over staying or going is really showcased in Oliver's interactions with Thea, as the two of them have dealt with the most loss throughout Arrow's four-plus seasons and therefore have the most to gain by choosing to stay in the Dominators' world. In fact, during the episode's best scene, Oliver even leaves Thea behind so that she can find happiness and peace in this fantasy, which has the Queen siblings talk about everything they've sacrificed and everyone they've lost over the course of their journeys to protect Star City. It's an incredible exchange between Thea and Oliver, as she suggests that this new reality could be a reward to Oliver for all the sacrifices he's made over the past five years, but as Oliver tells her, he never made any of those sacrifices as The Hood or The Arrow or even as the Green Arrow because he thought he would someday be rewarded; he did it all because he believed that it was the right thing to do.
There's such incredible emotion, so much pain and longing and hope, throughout Oliver and Thea's short conversation, and it's easily some of the best work that Stephen Amell and Willa Holland have ever done on Arrow. Despite the heightened circumstances of the situation, both actors make Oliver and Thea's words and actions feel so unquestionably real, and when Thea urges Oliver to stay and then reemerges by his side as he and the rest of the group fight against enemies from their past, it all feels honest and earned because of how strong the writing is for these characters and because of how uniformly fantastic the performances are.
As several different characters mention throughout tonight's episode, Oliver Queen doesn't have superpowers. He can't run as fast as Barry or fly like Supergirl, but the greatest strength he possesses, something more powerful than any type of ability or technology, is his determination. Throughout Arrow, we've seen Oliver get discouraged or become hopeless; we've even seen that type of behavior from him early on in Season 5. However, no matter how much he sacrifices or how high the odds are stacked against him, Oliver always finds a way to keep fighting, to keep saving people's lives, and to keep pursuing his mission of protecting his city. "Invasion!" acts as a reminder of not just Arrow's history but of how the show's titular hero will always continue to be a hero, whether he's wearing his green suit or not.
Other thoughts:
While Oliver and Thea's conversation is my personal favorite scene from tonight's episode, I also loved Oliver's "goodbye" scene to the most important people in his life. Seeing Felicity, Moira, Robert, Laurel, Roy, and Tommy surrounding him, their encouraging words throughout the years ringing in his head, was an emotional gut punch, even if the CGI there looked a little hokey.
Outside of the Dominators' dream world, we get Cisco, Felicity, and the new members of Team Arrow (minus Artemis) taking down Cybergirl so that they can use her regulator to try and find the exact location of Oliver and the rest of the group. Of course, in order to take down this villain, they need a little help from Barry and Kara, whom Curtis and Rory are big fans of, even though Rene doesn't trust them or their powers. Rene quickly changes his mind, though, after watching The Flash and Supergirl work together to take Cybergirl down.
And speaking of The Flash and Supergirl working together, how magnificent were Barry and Kara's tag-team skills in that scene? I had the biggest grin on my face.
But Barry and Kara fighting together doesn't get top prize for best action moment of the night. That award goes to Thea Queen for not only stabbing Malcolm but for then following that up immediately by shooting an arrow into Sara's hand so she can stab Damien Darhk with it. Oh yeah, and then she tosses Oliver his bow so he can kill Deathstroke. In short, Thea was the absolute best in this episode (as she always is).
There were so many emotional moments tonight (I haven't even talked about Oliver's goodbye scene with his parents, which was heartbreaking), but the Arrow writers didn't forget to infuse some wonderful comedy into this 100th episode as well. There was Curtis's C-3PO impression, Sara's "trained assassin" line, and Thea's amazement over being aboard (and then turning on) a spaceship. However, the funniest moment by far was when Malcolm mentioned that Tommy had become a doctor and was now living in Chicago, an amazing meta reference to Colin Donnell's current series-regular gig on NBC's Chicago Med.
As great as it was having all of Oliver's friends and family back in tonight's episode, I was also happy to see many of Arrow's villains return. Deathstroke, Damien Darhk, and Malcolm as The Dark Archer all made appearances tonight, and I was pretty pleased with how they were utilized and defeated by Oliver and the rest of the group.
Also, I loved how the flashes to the real world were handled. It felt very much like how Lost dealt with the Sideways World in Season 6.
My sole complaint with this episode is that, much like last night's The Flash, everything felt a little too fast-paced, a little too rushed, and that did detract somewhat from the impact of the hour's more emotional scenes.
"I know. I said I was sorry." "In a text." Sassy Sara is my favorite Sara.
"Your tech guy quotes movies, huh? Real original."
What did everyone else think about Arrow's 100th episode? Comment below and let me know.
[Photo credit: Bettina Strauss/The CW]
Arrow Season 5 Episode 8 Review: "Invasion!"
Summary
Oliver, Thea, Diggle, Sara, and Ray struggle to break free from the Dominators' dream world in Arrow's excellent 100th episode.