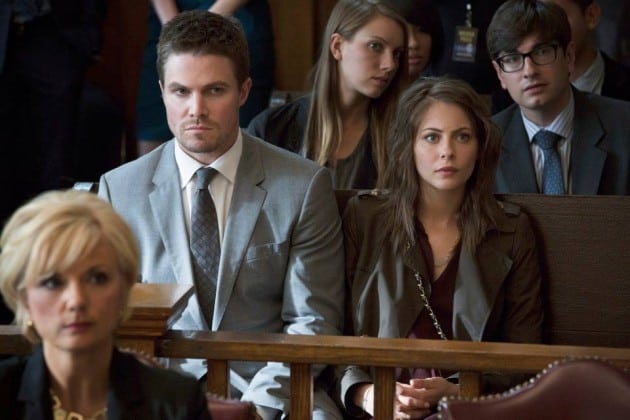 If episode seven of Arrow had been the mid-season finale before the winter hiatus, that would have been a great episode to end 2013 with. Fortunately, Christmas came early this year as there are still two episodes coming up in December, after this powerful episode last night.
The return for Seth Gabel as The Count or now known as Count Vertigo was something exciting to look forward to especially after the events in his last episode in season 1. Gabel's character got to be featured more this time around and just like last season, he truly was Arrow's personal Joker.
There were once again some similarities to Heath Ledger's Joker from The Dark Knight which was entertaining to watch. However, the decision to kill him off was a bit of a disappointment because Count Vertigo is one of Green Arrow's biggest villains in the comic books and the show really had a twisted villain in this interpretation.
It's understandable that perhaps they needed to kill him off because Gabel may have other commitments. Another speculation for killing him off could be that they needed someone for Oliver to kill as he would at some point accidentally break his rule.
Gabel gave the viewers an amazing and ruthless villain throughout his episodes and he will definitely be a villain who will be missed. Through this story, they revealed that Brother Blood was part of this plot and it tells the viewers that his role as a villain is going to get bigger.
In the flashbacks this week, Team Island was finally reunited and their arc is going to be intriguing to follow. Dylan Neal continues to make Dr. Ivo one of Arrow's best villains so far as he is definitely bringing the island-storyline to the next level.
The storyline that they set up for Moira this season has progressed in a proper pace and to see that she was declared "not guilty" felt like a deserved conclusion. It wouldn't have hurt if this had ended in perhaps episode 8 or 9. But knowing that those two episodes are already going to be big enough, it was good to wrap it up here.
Part of this arc was to see how Thea was doing throughout the whole arc and Holland's best scene was without doubt her letting her anger out. Roy Harper has to be the best boyfriend in the world to offer her to use him as a human punching bag in order to get her anger out.
However, just as Moira was released from one nightmare, a nightmare from the past resurfaced which was the return of John Barrowman's Malcolm Merlyn aka The Dark Archer. Part of this revelation was the truth that Malcolm is the biological father of Thea and that was a surprise. It will be fascinating to see where they will go with this story arc, how Thea will react and most of all, how Oliver is going to handle the return of his best friend's father.
There had been huge speculations since the season finale "Sacrifice" that he didn't die and that he would return at some point. With the news that came out last month that he would return for "at least two episodes", the chances of him being alive got stronger.
The smart thing that the writers did with his return was to wait at least four-five episodes after the season had started to make this a surprise even though his return was more or less expected. Barrowman has and always will be one of Arrow's most fantastic additions as Malcolm Merlyn is a strong antagonist for Oliver.
The thing that will most likely be discussed for a while is how? One speculation could be that he was brought back to life by the Lazarus Pit that is connected to Ra's al Ghul and his League of Assassins. It would make sense since he is a member of that league and they are most likely going to become a bigger threat to Oliver later this season. It will be interesting to see what the writers have planned for the fans.
"State v. Queen" was one of the best episodes of season 2 with amazing writing by the Arrow team as they continue to make this season a powerful one. The actors brought their A-game as always and hopefully these two weeks will go fast as a flash.
Arrow will return on December 4 with episode 8,"The Scientist" featuring Grant Gustin as Barry Allen, 8/7c on The CW.
Image source