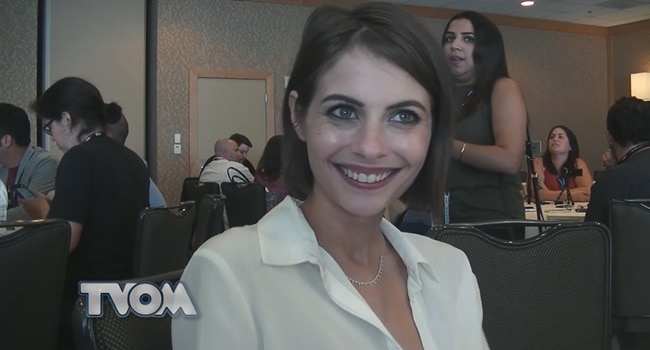 DC Television's long-running Arrow will be heading into its 5th season this fall as the show about Oliver Queen (Stephen Amell) a.k.a. the Green Arrow, which has helped launch The Flash, Legends of Tomorrow and Supergirl, will feature a lot of new changes, new members and more. The show will also be celebrating its 100th episode with 5.08 which will also be coinciding with the 4-show crossover between The Flash, Supergirl and Legends of Tomorrow.
At this year's San Diego Comic-Con, TV Overmind participated in the Arrow Press Room with several outlets to chat with the cast and crew behind the show to get some insight into what is coming in Season 5. Willa Holland, who plays Thea Queen a.k.a. Speedy, was one of the great talents we spoke with as she teased what's happening in the 5th season and what's coming up for Thea after her decision in the Season 4 finale.
Highlights of the interview:
-Where we will find Thea in Season 5, both professionally and emotionally.
-What she is most excited about with the 100th episode being part of the 4-Show Crossover.
-Whether or not The Flash's Flashpoint will be causing any changes on Arrow.
-The physical evolution of Thea's character as she has evolved her fighting skills over the past two seasons.
[youtube https://www.youtube.com/watch?v=h9hpWO6fJaU]
Arrow Season 5 begins on Wednesday, October 5 at 8/7c on The CW. Stay tuned for more roundtable videos of the cast and producers in the next few days right here at TVOvermind. What are you most excited about the 5th season of Arrow? Are you looking forward to see the arrival of 4-show crossover? Let us know in the comments below.
Make sure to check out our other Arrow round tables from San Diego Comic-Con as well: Stephen Amell (Oliver Queen/Green Arrow) - Emily Bett Rickards (Felicity Smoak) — David Ramsey (John Diggle).
[Photos via YouTube]