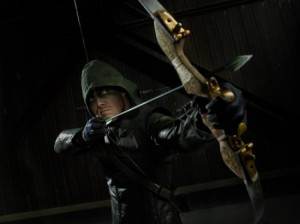 The Comic-Con fans seemed pumped about Arrow when screening the new superhero pilot before stars Stephen Amell and Katie Cassidy and executive producers Andrew Kreisberg & Marc Guggenheim and director David Nutter took the stage to briefly discuss the show. Here's a few teasers for the show:
Origin of the Idea. Marc said that it was Peter Roth's (head of the studio) idea to put together the Green Arrow TV show. But will it exist within the broader DC universe? Absolutely.
Casting Spoiler. We'll be seeing DC character China White, played by Kelly Hu, in an upcoming episode of Arrow.
Laurel as a Superhero. If Katie's character evolves into the superhero that she is meant to be, she's prepared to don the costume. She thought that the character of Laurel Lance 'really spoke to [her]'. When asked how long it would take for Lauren to embrace her destiny, Andrew replied: 'Not as soon as you'd want, but a lot sooner than you would think.'
Smallvile Green Arrow vs. Amell's Green Arrow. The Justin Hartley version of Green Arrow is terrific, but it's part of Smallville. That character wasn't designed to anchor an entire series on his own. In order to have the Green Arrow lead a show, they felt he needed to be re-imagined, according to Marc. He says that having a darker hero is more conducive to having a vigilante character, which is who this Arrow is supposed to be. As for Oliver being a killer in the pilot, Stephen explained that 'You couldn't expect that Oliver was going to undertake something so monumental without there being collateral damage. You don't have to agree with his tactics, but you should respect what he's trying to do [cleaning up the city].'
Flashbacks. We will be going back to visit the island to see how Oliver transformed into the man that he is.
DC Easter Eggs. The writers are always working in little easter eggs from the comics. There will be big pieces of the DC universe, like Deathstroke, but also small nuggets that keen-eyed fans will see.
Want a preview of Arrow? Check out the two clips from the pilot below and don't miss the series premiere on Wednesday, October 10 at 8:00 p.m. on The CW. You can also watch an extended trailer for the series here.